Welcome to Arbroath & District Pool League
The 2014 AJ Beedie Jewellers Arbroath Open will be held at Seaton House, Seaton Estate, Arbroath on Saturday 17th May. The sign in time will be 10:30am for all those drawn out in the first 16 matches, for the remaining players it will be 12noon.

The deadline for ALL entries is Friday 9th May. This will allow all entries to be collated and the draw carried out in advance. This deadline stands for ALL players and I will contact those in surrounding areas to ensure monies are collected. As always, the event will be held on high quality Supreme tables. The draw will be posted online as soon as it is carried out, as a guide this should be no later than Wednesday 14th May.

Entry remains at £5 per player and matches will begin, as a minimum, as best of 5 frames. All entry monies will be paid out on the day. Rules will be SPA Blackball, with players lagging the first frame with alternative breaks from then on. Players are to referee their own matches with a floating referee in place on the day. The Tournament Director reserves the right to introduce the 1-minute rule at any time to prevent 'slow play'.

Last year saw a record field of 129 entries. As the tournament name suggests it is an "Open" event and therefore entries are encouraged and welcome from players not registered locally and also those from outwith the local area. You do not have to be registered to a pool team to compete, but you should be familiar with the Blackball rules.

In the past we have had some regular visitors from Dundee and further afield including Glasgow, Aberdeen and Falkirk. Players from local leagues including Perth, Montrose, Forfar, Brechin, Carnoustie have also made the journey to compete.

As always, players are reminded that this venue is the best we have ever had for any of our events and to ensure we can return, good personal conduct is paramount. It is appreciated pool days are social events too but players who do not conduct themselves properly will either be warned, docked frames or removed from the venue. Any players removed from the venue will not be invited back.

This event is ideal for those guys who just fancy a day out playing pool with their mates and enjoy the social aspects.

Entry Forms and Flyers will be distributed to all ADPL Captain's as soon as possible. I will also contact surrounding and other outlying areas in due course.

Any questions please login and ask on the forum thread.
This year the ADPL presented two cheques for £500 each to Macmillan Cancer Support and DEBRA at Finals Day. The cheques were handed over by President Gordon Smith with players from pool league watching on.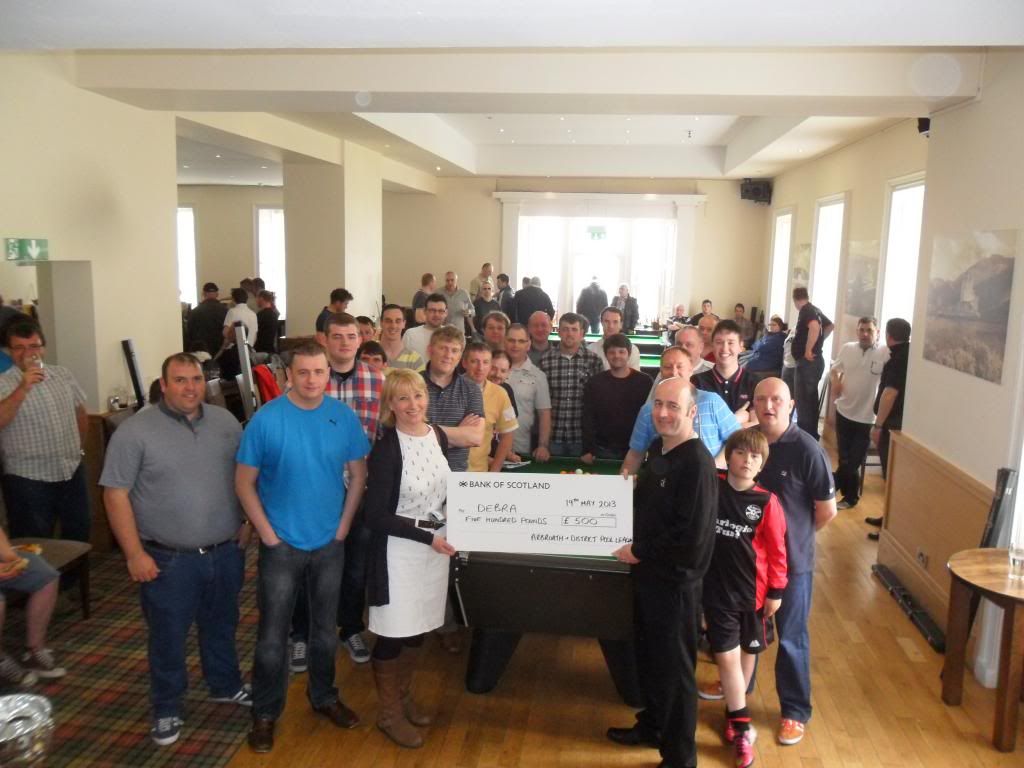 Charity Presentation to DEBRA.
Charity Presentation to MacMillan Cancer Support