Welcome to Arbroath & District Pool League
A fantastic 133 entries were received for this years AJ Beedie Jewellers Arbroath Open. Thank you to all of those that have assisted with the gathering of entries and most importantly to everyone that has entered.

The draw was carried out at tonight's ADPL Committee meeting and is as follows:-

PLEASE NOTE THE VARIOUS SIGN IN TIMES

Prelim Matches - Sign-In Time (10:00am for 10:15am Start)
Prelim 1 Iain Soutar v Scott Coventry
Prelim 2 Sean Hardwick v Steve Webster
Prelim 3 James Curran v David Jack
Prelim 4 Kevin Brown v Gary Stewart
Prelim 5 Jim Ogilvie v Pamela Twaddle

Last 128 - Sign-In Time (10:00am for 10:15am Start)
Match 6 David McFarlane v Dale Leith
Match 7 Bob Whitelaw v Robert Mitchell
Match 8 Richard Paterson v Murray Shields
Match 9 Kevin Woolfries v Ian Brunton
Match 10 Kevin Chalmers v Graeme Lawrence
Match 12 Chrissy Gray v Mark McGlashan
Match 13 Gordon Smith v Colin Nicholson
Match 14 Rosco Duncan v Alex Mason
Match 15 Martin Cherry v Billy Stirling
Match 16 Bryan Cumming v Ryan Fleming
Match 17 John McHugh v Kieran Walkingshaw
Match 18 Darren Wyllie v Chris Petrie
Match 19 Tam Twaddle v Danny Elder

Last 128 - Sign-In Time (11:15am)
Match 1 Winner Prelim 1 v Eddie Hunt Snr
Match 2 Winner Prelim 2 v Calum Menzies
Match 3 Winner Prelim 3 v Daniel McAllister
Match 4 Winner Prelim 4 v Moyra Andrews
Match 5 Winner Prelim 5 v Jeff Barthorpe

Match 20 Jon Cargill v Eddie Hagerty
Match 21 Danny Ford v Stuart Campbell
Match 22 Dennis Henderson v Michael Watt
Match 23 Steve Hamilton v Billy Girdwood
Match 24 James Mennie v Iain Martin
Match 25 Craig Fairweather v Mark Graham
Match 26 Jim Fleming v Paddy Nicoll
Match 27 Steve Hardwick v Scott Dunbar
Match 28 Robert Lambie v Colin Smith
Match 30 Luke Taylor v Paddy Allen
Match 31 Dave McLaren v Rab Tritton
Match 32 Weland Holroyd v Greg Alexander
Match 34 Stevie Andrews Snr v Ronnie Edwards
Match 35 Garry Mitchell v Logan Hunt
Match 36 Alex Cargill v Steve Selvey


Last 128 - Sign-In Time (12:30pm)
Match 11 John Fotheringham v Gary McLeish
Match 29 John Maud v Brian Craig
Match 33 Nick Denson v Stuart Cameron
Match 37 Jamie Gordon v Michael Emslie
Match 38 Craig Sandford v Peter Howitt
Match 39 Joe Martin v Jim Dear
Match 40 Euan Sharpe v John Pollock
Match 41 Graham Dunbar v Morgan McInnes
Match 42 Dean Anderson v Connor Yeats
Match 43 Walter Preston v Ryan Beech
Match 44 Billy Leahy Jnr v Craig Humphreys
Match 45 Keir Hamilton v Davie Fraser
Match 46 Steve Hallam v Peem Twaddle
Match 47 John Stewart v Shane Twaddle
Match 48 Neil Hallyburton v Jimmy Pollock
Match 49 Matt Paton v David Williams
Match 50 Debs Breen v James McDonald
Match 51 Matty Gray v Susan Scotland
Match 52 Steve Reid v Jake Bruce
Match 53 Michael Bastow v Darrin Warren
Match 54 Callum Paton v Stephen Anderson
Match 55 Christian Watt v Tam Walkingshaw
Match 56 Colin Brown v Lee Marshall
Match 57 John Beech v Andy Braid
Match 58 Ryan Walkingshaw v David Thornton
Match 59 Rodney Neil v Simon Mitchell
Match 60 Gordon Dickson v Craig Nelson
Match 61 Ricky Robertson v Marc Fleming
Match 62 Billy Leahy Snr v Wayne Crole
Match 63 Mark Robbie v Roy Middleton
Match 64 Kane Scott v Stevie Andrews Jnr
The Quarter and Semi Finals of the SIDEY ADPL Doubles will be played on Wednesday 3rd May.

Players should note that this is a straight draw from here and the draw is as follows:-

Quarter Finals
Portcullis (Bar)
Match 1: Kane Scott & Daryl Scott v Brian Craig & Bobby Bell
Portcullis (Darts)
Match 2: Ryan Fleming & Martin Cherry v Graham Dunbar* & Paddy Nicoll
Legion (Bar)
Match 3: Gordon Smith* & Stuart Smith v David Jack & Greg Alexander
Legion (Darts)
Match 4: Glen McEvoy & Sam McWalter v Shane Twaddle & Steve Reid


Semi Finals
Portcullis (Bar)
Match 5: Winner Match 1 v Winner Match 2
Legion (Bar)
Match 6: Winner Match 3 v Winner Match 4

*: denotes controller

Strict sign-in time of 8:00pm.

Quarter Final matches are best of five frames. Semi Final matches are best of seven frames.

The Controller is to text the qualifiers to the Match Secretary upon completion of the matches.

Players should also note that the Final will be played at ADPL Finals Day on Sunday 28th May at Shotz Snooker & Pool Hall, Arbroath.
Congratulations to Shotz 1B who are this year's 4-Man Team Champions. The team led by captain Keir Hamilton also included Nick Denson, John Fotheringham, Roy Middleton and Steve Hamilton, who defeated Shotz 3A in the final by a convincing 5-0 scoreline. Shotz 3A were led by Michael Emslie, with James Curran, Peem Twaddle and Craig Sandford in the team.
Thank you to all of the players who attended tonight and it is hoped everyone enjoyed the event. Thanks are also extended to everyone at Shotz for hosting and sponsoring.
The ADPL Charity 4-Man Team will be played on Tuesday 25th April. It will be held in Shotz Pool and Snooker Hall, and the event shall start at 7pm.

The deadline for entries is Friday 21st April, entry remains £10 per team. All entries are added to the Charity pot and will be handed over to the ADPL chosen charity.

The format will likely be similar to last years, with a straight knockout and a plate event for all first round losing teams. This guarantees at least two matches for each team. Again, it will all depend on the interest levels.
The 2017 Cliffburn Singles attracted a field of 60 entries. The day went well and the final produced a magnificent standard of pool from both players, Ryan Fleming and Iain Soutar. Unfortunately one of these players had to be defeated and commiserations go to Iain, who was edged out 5-3. Congratulations to this year's winner Ryan Fleming who adds this to his recent Portcullis Singles win.
Thanks are extended to all of the players who attended and also to our sponsor Bobby Din, along with his staff.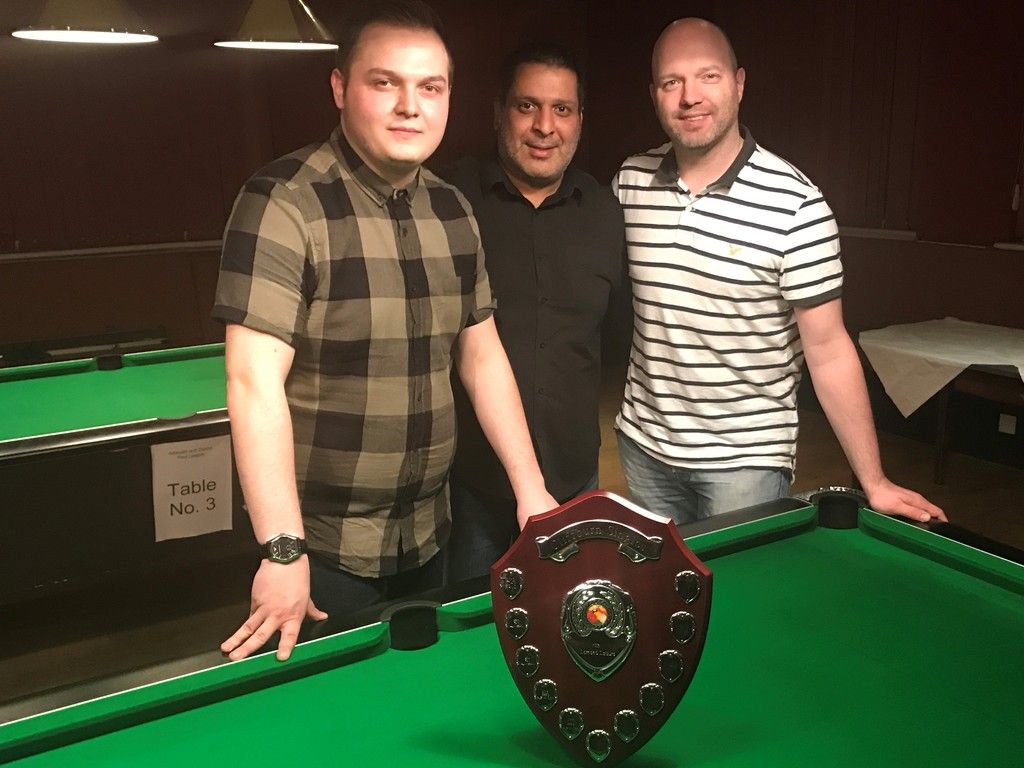 Pictured (l to r) Ryan Fleming, Bobby Din and Iain Soutar.
St Tams are the 2016-17 Division 2 Cup Champions after a 7-3 win against Cliffburn (2) tonight. Cliffburn set the pace taking a 3-1 lead and looked to be out of sight but they were pegged back and St Tams pushed on to secure the win with the first double.
Congratulations to Mark Edgar and his team. Unlucky to Josh Longmuir and his team.
Thanks are extended to Steven and Leanne Scott at the Stag for hosting this years final.
Pictured: Division 2 Cup Champions, St Tams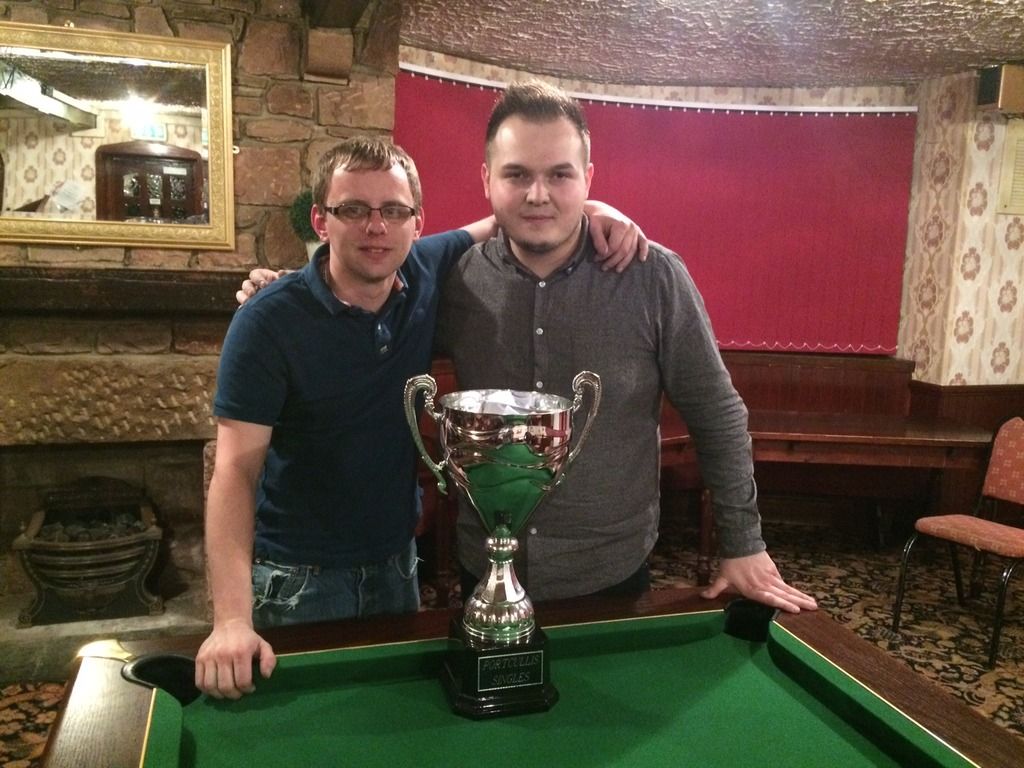 Last Saturday saw the eighth annual playing of the Portcullis Pool Singles Competition. The event was won by Ryan Fleming who defeated Scott MacEwan 5-3 in the final in a comeback win after being behind 3-1. Commiserations to Scott who had a good run on the day. Beaten semi-finalists were Darrin Warren and John Fotheringham. Thanks go to the new proprietors of the Portcullis, Chris and Jakki Henderson for sponsoring the event and to all the bar staff for looking after the players. Final thanks to all the players without whom these events would not be possible.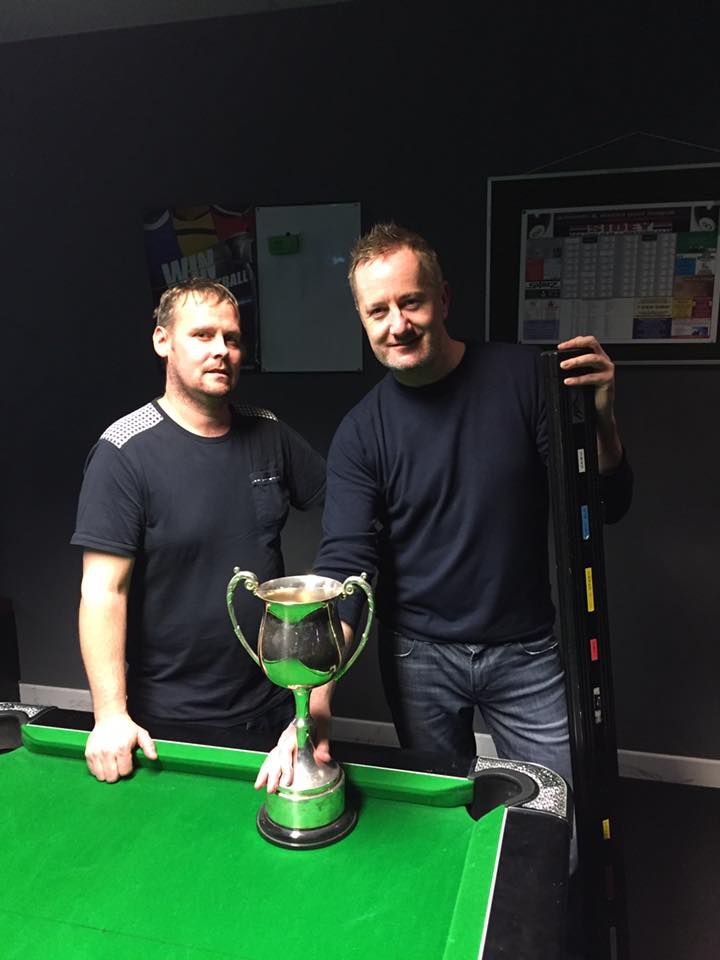 Congratulations to Colin Brown who walked away as the 2016 Shotz Singles Champion. Colin is a very experienced player but had to dig deep in the final. Alex Mason edged him all the way and lost out in a final frame decider. A massive well done to Alex too for his efforts, a brilliant run on the day.

Thanks are extended to hosts Shotz and their staff for their assistance throughout the day.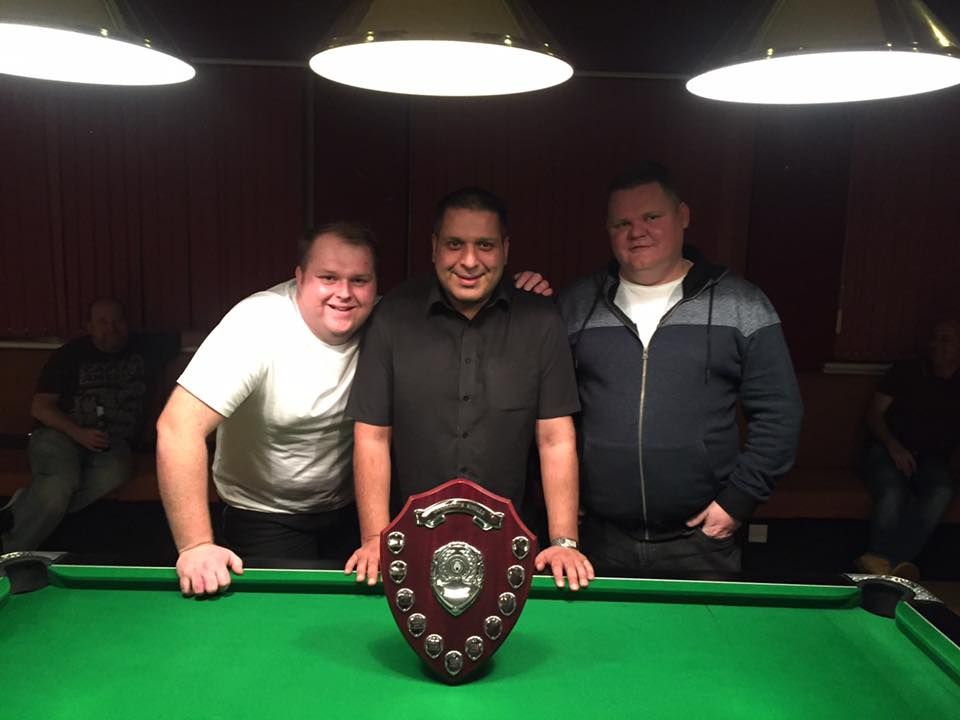 Congratulations to Glen McEvoy (pictured left in the photo) who is this years Grassroots Champion. Glen defeated Chris Gray (pictured right) in the final. A massive well done to Chris though, a great effort by him on the day.
Thanks are extended to host Bobby Din and his staff at the Cliffburn Hotel.
A final thanks for the event TD, Scott MacEwan, who stood in at short notice and done a fantastic job.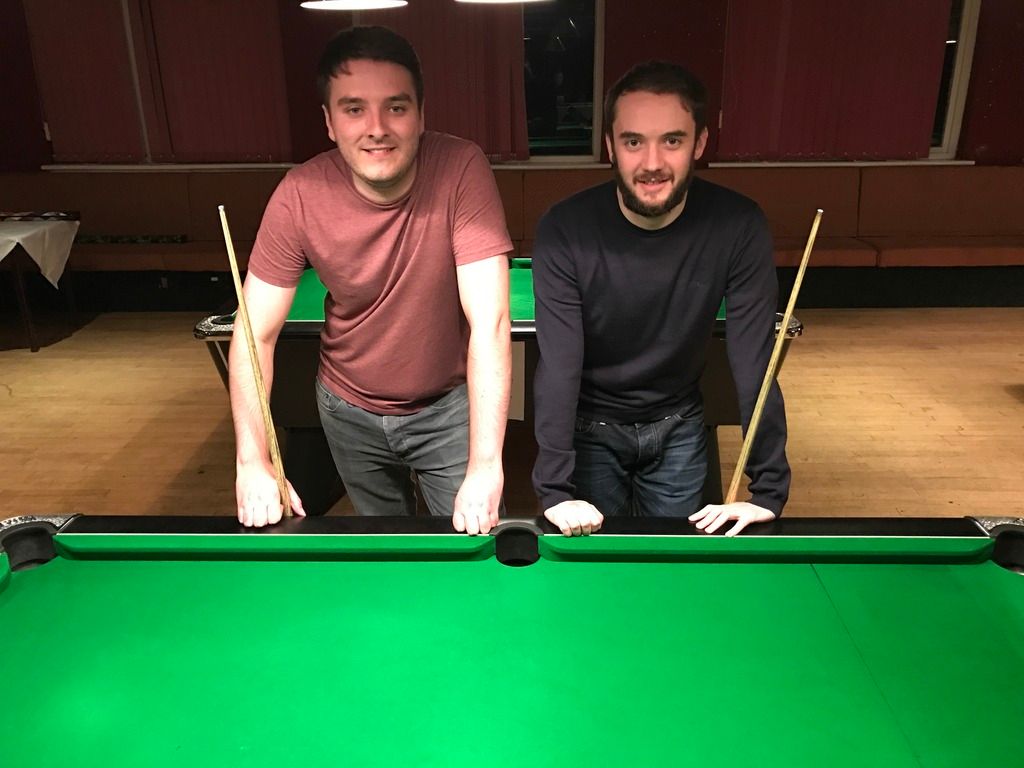 Photgraph: Mark Donald, Runner-Up (left); Gary McLeish, Winner
The ADPL Masters was held last weekend at the Cliffburn Hotel. This event is contested by the top sixteen players in Arbroath based upon the tournament ranking structure. Gary McLeish won this year's event, defeating Mark Donld in the final. Gary played flawless all day and was focused from the get-go. Congratulations to him on his win and likely not his last tournament win either. A special mention for Mark too though, himself having a fantastic event but just running out of steam in the final. Mark took some noteable scalps during the day and should be proud of his achievements. Thanks are extended to the hosts at the Cliffburn and all of the staff.
It is with great pleasure that the ADPL Committee can announce that Sidey have kindly sponsored the ADPL for the 2016-17 Season.

The Committee would like to extend their thanks to Sidey for their generous sponsorship deal.

In addition, we must also thank Gordon Dickson who has been instrumental in securing this sponsorship.

Please have a look at Sidey's website, http://www.sidey.co.uk/, to view their many products.

Windows - Doors - Conservatories - Sunrooms - Roofline - Kitchens - Bathrooms - Blinds - Easy Turf™ - Glass

If you do decide to make a purchase then please mention the ADPL.

Regards,
Michael