Welcome to Arbroath & District Pool League
These ties will be played out on Tuesday 24th January 2017 with a strict sign-in time of 8:00pm. Controllers are to phone/text the scores to the Match Secretary upon conclusion of the ties.

The draw is as follows:


Bowlers


Mark McGlashan
Paul Wiltosz
Bobby Bell
Gordon Smith*
Wayne Green
Rikki McWalter
Craig Fairweather
Ben Rennie

Buicks Bar


Kyle Brown
James Curran
Craig Taylor
Paul Duncan
John Fotheringham*
Dave McKay
Jack Denholm
Jim Dear

Cliffburn


Sean Barker
Stuart Campbell*
Kieran Gordon
Matt Paton
John Maud
Seonaid Wishart
Gordon Dickson
Gordon Soutar

Legion


Sam McWalter
Scott MacEwan
James Jackson
James Scott
Keir Hamilton
Richard Crowder
Graham Dunbar*
Tam Twaddle

Merchants


Billy Girdwood
Jim Ogilvie
Mark Gray
Dean Smith
Ryan Fleming*
Michael Emslie
Darren Wylie
Gareth Ruxton

Newgate


Neil Walker
Peter Boyd
Nic Van Rijn
Brian Craig*
Nick Denson
Robert Baird
Andrew Taylor
Chris Smith

Portcullis

(Bar)
Liam Scott
Ryan Mackenzie
Daryl Scott
Wayne Jarvie
Steve Reid*
Walter Preston
Mike Clark
Jack Taylor

Portcullis

(Darts)
Ryan Diplexcito
Darrin Warren
George Ogilvie
Neil Davidson
Ian Brunton
Colin Smith
Colin Brown*
Chris Lyons

Ram's Heid

(Bar)
Sean Hardwick
Ryan Ross
Greg Alexander*
Kevin Woolfries
Andrew Barrowman
Jim Falconer
Pamela Twaddle
Callum Paton

Ram's Heid

(Kitchen)
Jamie Stewart
Stuart Cameron
Mark Donald*
Glen McEvoy
Jamie Sievwright
Kane Scott
Scott Teviotdale
Gary McLeish

Shotz 1


Roy Middleton*
Steve Webster
Kenny McMillan
Ronnie Edwards
Craig Humphreys
Steve Hamilton
Neil Stewart
Gavin Smith

Shotz 2


Jonathan Cargill*
Billy Watson
Steve Hallam
Kieran Murray
Peem Twaddle
James Balfour
Steven Scott
Karl Capewell

Shotz 3


Chris Mitchell
Fraser Whitton
Steve Hardwick
Susan Scotland
Michael Bastow*
Steven Neave
Jake Bruce
Duncan Low

Shotz 4


Michael Watt
Alex Mason
Ricky Robertson
James Sw.ankie
Ian Anderson*
Kevin Laing
Josh Longmuir
Alex Whyte

Stag


David Jack
Tommy Paul
James Cowie
David Williams*
Ally Herald
Tam Dye
David Thornton
Gavin Cargill

Station


Paddy Nicoll*
Christian Watt
Jamie Robertson
Chris Gray
Ian Davidson
Mark Wilkie
Richard Paterson
Martin Cherry
*: denotes controller
Each venue shall play down to four qualifiers.
All matches are best of five frames.
Lag the first frame and alternative break from then onwards.

Referees to be in place for all matches, upon completion of the first match it will be the winners who will referee the following match.
This is a straight draw from this stage onwards:

Last 16 - to be played on Tuesday 14th February 2017

Match 1: Newgate 1 v Fishermans
Match 2: Merchants v Shotz 2
Match 3: Portcullis 1 v Shotz 3
Match 4: Portcullis 2 v St Tams
Match 5: Stag 1 v Portcullis 3
Match 6: Letham 2 v Legion 1
Match 7: Cliffburn 1 v Station
Match 8: Ram's Heid 1 v Shotz 1

The format, as with all cup matches, will be nine singles and four doubles. Usual sign-in time of 8:00pm.

The losing teams in this round shall enter the Consolation Cup. Captains please note; failure to honour Knockout Cup fixtures will result in your team being excluded from the Consolation Cup.
These ties will be played on Tuesday 7th February 2017.

Normal Start Time of 8:00pm and format is best of five frames.
A prelim will be played at each venue with 5 pairs with 2 qualifiers from every venue on the night.
Lag the first frame only then alternative breaks.
Controllers to phone or text the qualifiers names to the Match Secretary.

In the event of a unavailable partner, players can take a new partner provided that the player is registered for a team within the ADPL and they have not yet played in the competition. Partners who require such a name change must notify the Match Secretary.
*denotes controller
Bowlers


Kevin Millar & Sandy Jarvie
Mike McGlashan & Billy Girdwood
Michael Shore & Shaun Berrie
Gordon Smith* & Stuart Smith

Buicks Bar


Neil Walker & Wayne Jarvie
David Williams* & Colin Brown
Steve Hardwick & Sean Hardwick
Andy Braid & Michael Watt
Douglas Sievwright & Laura Sievwright

Cliffburn


Jack Taylor & Callum Fair
Davd Jack & Greg Alexander*
Jamie Sievwright & Craig Taylor
Walter Preston & Alex Whyte
Jim Dear & Sean Barker

Legion

(Bar)
Roy Middleton & John Fotheringham
Brian Craig* & Bobby Bell
Jamie Robertson & Ricky Robertson
Kevin Laing & Dave McKay

Merchants


Stuart Cameron & Peter Boyd
Kieran Gordon & Gordon Soutar
George Ogilvie & Jim Ogilvie
Kane Scott & Daryl Scott*
Ryan Ross & Ally Herald

Newgate


Ryan Mackenzie & Tam Dye
Kyle Brown & Fraser Stewart
Steve Hamilton* & Keir Hamilton
Billy Watson & Ian Webster

Portcullis

(Bar)
Craig Toal & Ally Thomson
Barrie Scotthorne & Gavin Smith
Peem Twaddle & Tam Twaddle
Jim Falconer & Chris Mitchell
Callum Paton* & Pamela Twaddle

Portcullis

(Darts)
Michael Bastow* & Mark Donald
Darrin Warren & Scott MacEwan
Ryan Fleming & Martin Cherry
Ryan Diplexcito & Neil Davidson
John Maud & Rikki McWalter

Ram's Heid

(Bar)
Richard Paterson & Connor Hunter
David McFarlane & Phil Bowman
James Jackson & Kevin Duncan
James Sw.ankie & Mark Edwards
Nick Denson* & Jonathan Cargill

Ram's Heid

(Kitchen)
Josh Longmuir*& Ian Brunton
Kieran Murphy & Jack Denholm
Sonny McPhail & Daniel Westwood
Jon Cargill & Kieran Murray
Scott Teviotdale & Alan Doyle

Stag


Kris Cameron* & Gavin Cargill
Ben Rennie & Nicky Williams
Mark Wilkie & Billy McDonald
James Balfour & Billy Cadger
Station
Graham Dunbar* & Paddy Nicoll
David Thornton & Kieran Harrison
Jeff Barthorpe & Lindsay Palser
Paul Wiltosz & Kenny McMillan

Shotz 1


Steven Scott & Liam Scott
Nic Van Rijn & Colin Smith
James Cowie & Seonaid Wishart
Craig Stewart & Fraser Whitton
Glen McEvoy & Sam McWalter*

Shotz 2


Richard Crowder & Matt Paton
Ronnie Edwards & Alex Mason
Wayne Green* & Craig Fairweather
Darren Wylie & Andrew Barrowman
Mike Clark & Andy Milne
Shotz 3
Steve Hallam & Christian Watt
Steve Webster* & Gordon Dickson
David Paterson & Ben Watson
Shane Twaddle & Steve Reid
Gary McLeish & Ian Anderson

Shotz 4


Kevin Woolfries & Jake Bruce
James Curran & Michael Emslie
Tommy Paul & Craig Taylor
Chris Smith & James Scott
Craig Humphreys* & Mark Gray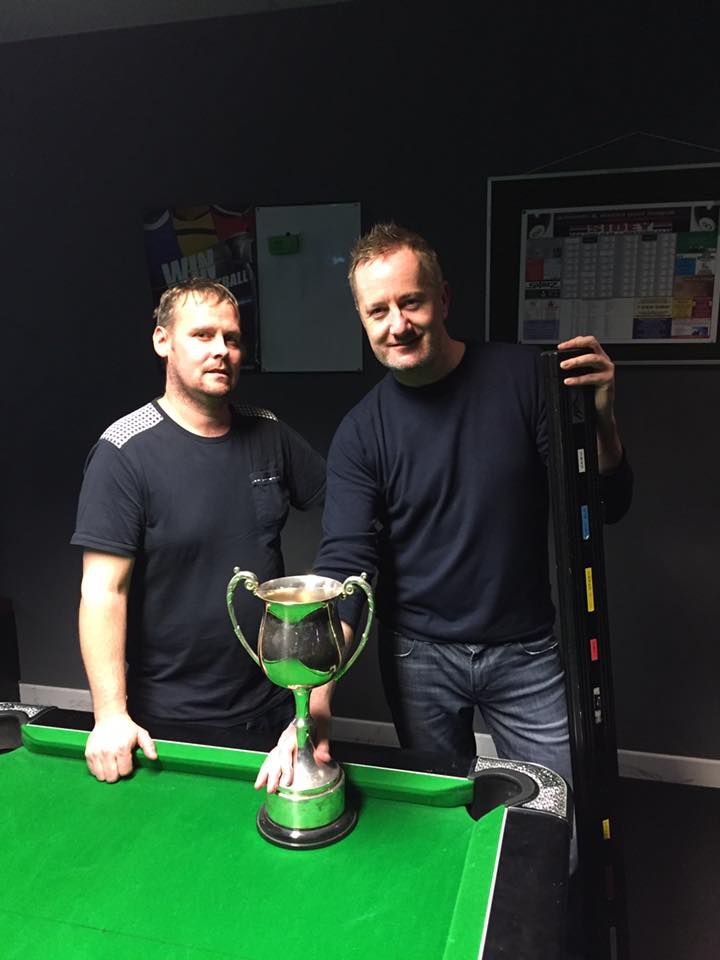 Congratulations to Colin Brown who walked away as the 2016 Shotz Singles Champion. Colin is a very experienced player but had to dig deep in the final. Alex Mason edged him all the way and lost out in a final frame decider. A massive well done to Alex too for his efforts, a brilliant run on the day.

Thanks are extended to hosts Shotz and their staff for their assistance throughout the day.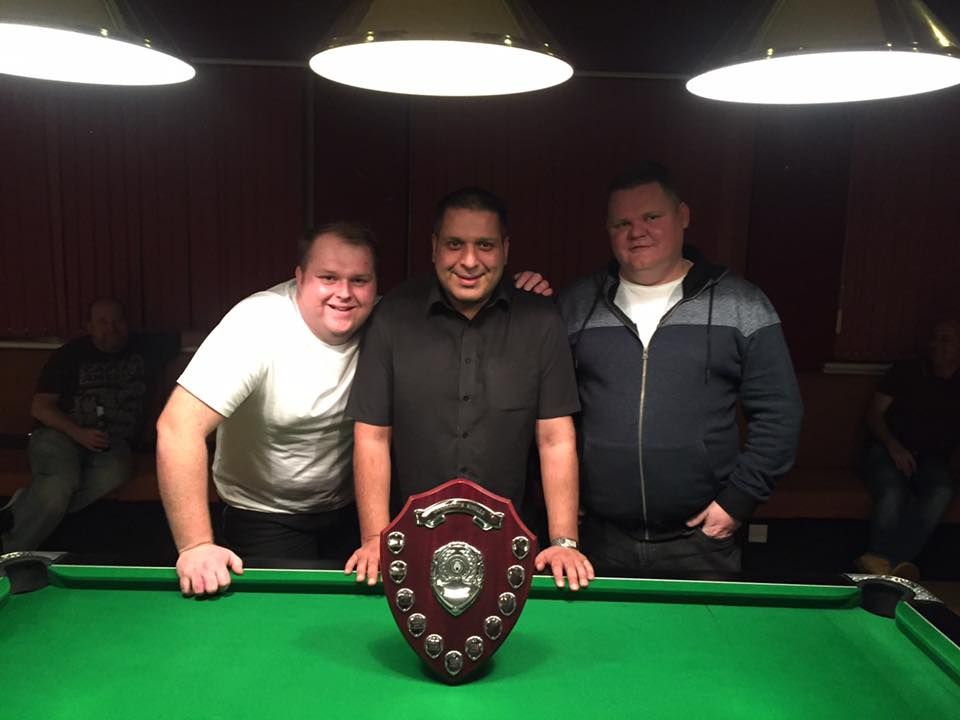 Congratulations to Glen McEvoy (pictured left in the photo) who is this years Grassroots Champion. Glen defeated Chris Gray (pictured right) in the final. A massive well done to Chris though, a great effort by him on the day.
Thanks are extended to host Bobby Din and his staff at the Cliffburn Hotel.
A final thanks for the event TD, Scott MacEwan, who stood in at short notice and done a fantastic job.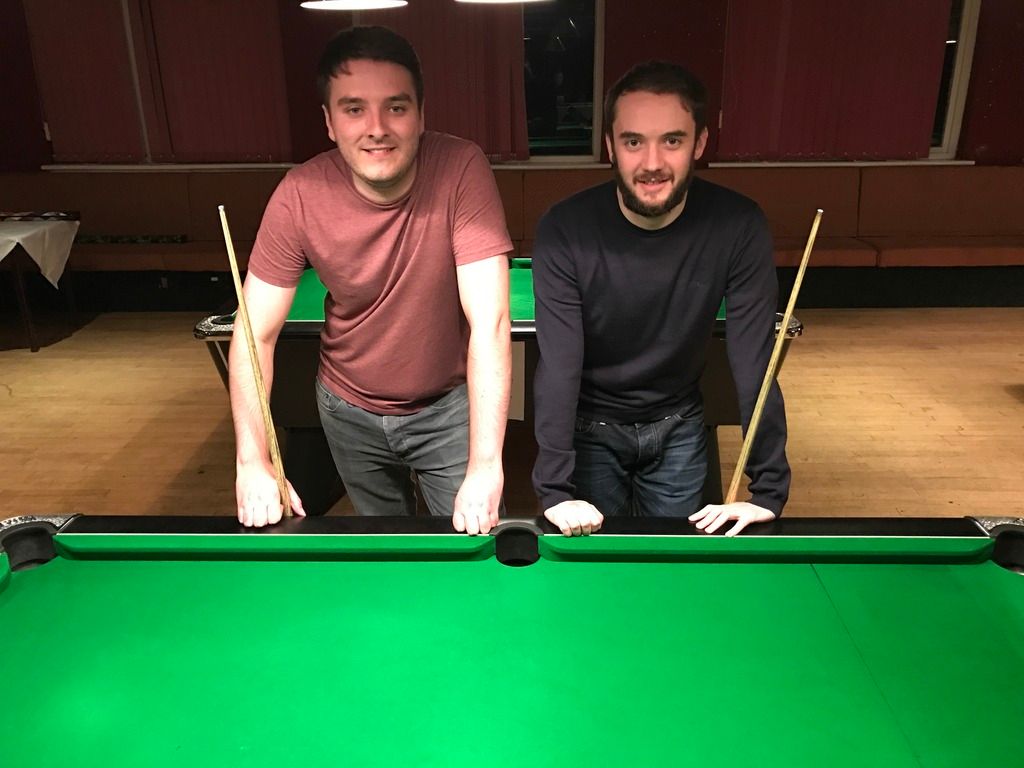 Photgraph: Mark Donald, Runner-Up (left); Gary McLeish, Winner
The ADPL Masters was held last weekend at the Cliffburn Hotel. This event is contested by the top sixteen players in Arbroath based upon the tournament ranking structure. Gary McLeish won this year's event, defeating Mark Donld in the final. Gary played flawless all day and was focused from the get-go. Congratulations to him on his win and likely not his last tournament win either. A special mention for Mark too though, himself having a fantastic event but just running out of steam in the final. Mark took some noteable scalps during the day and should be proud of his achievements. Thanks are extended to the hosts at the Cliffburn and all of the staff.
It is with great pleasure that the ADPL Committee can announce that Sidey have kindly sponsored the ADPL for the 2016-17 Season.

The Committee would like to extend their thanks to Sidey for their generous sponsorship deal.

In addition, we must also thank Gordon Dickson who has been instrumental in securing this sponsorship.

Please have a look at Sidey's website, http://www.sidey.co.uk/, to view their many products.

Windows - Doors - Conservatories - Sunrooms - Roofline - Kitchens - Bathrooms - Blinds - Easy Turf™ - Glass

If you do decide to make a purchase then please mention the ADPL.

Regards,
Michael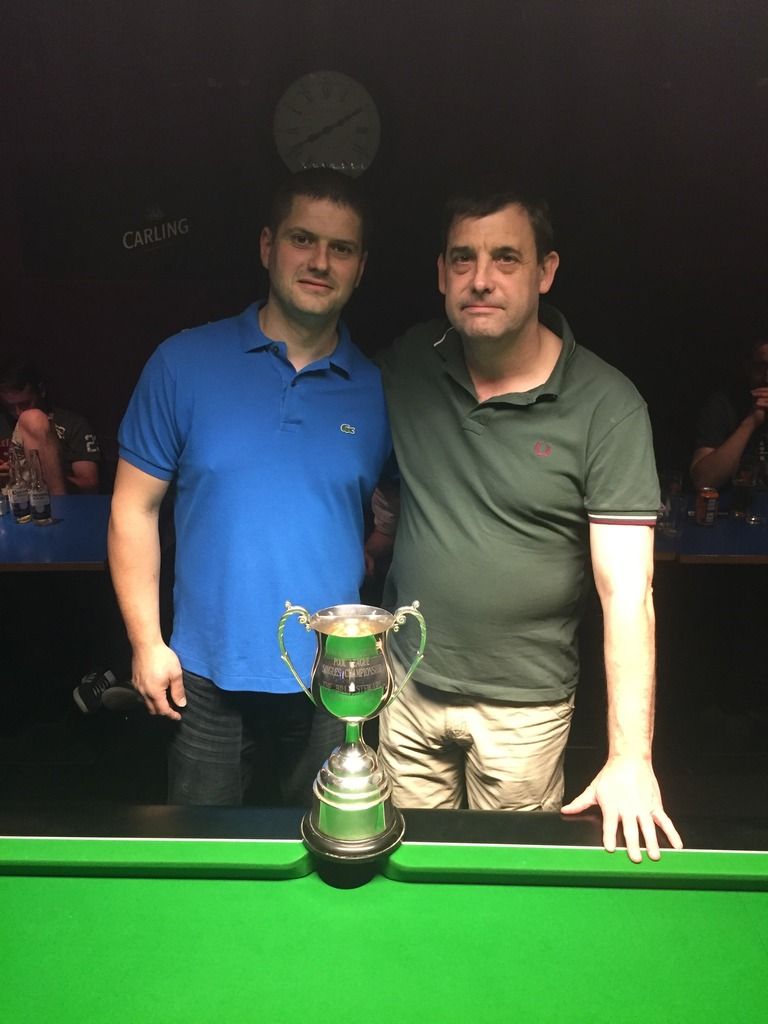 2016 Singles Finalists (left to right)
Nick Denson (Runner-Up)
and Steve Webster (Winner)
Doubles Finalists with Sponsor (left to right)
David Jack, Graham Dunbar (Winners), Garry Mitchell (Sponsor)
Stuart Smith and Gordon Smith (Runners Up)
2016 Knockout Cup Champions - Shotz 1
2016 Consolation Cup Winners - Newgate 1