Welcome to Arbroath & District Pool League
The Knockout Cup Last 16 will be played on Wednesday 4th February 2015.

This is a straight draw from this point onwards:

Match 1: Shotz (3) v Bowlers (2)
Match 2: Bowlers (1) v Cliffburn (1)
Match 3: West Port (1) v Legion (1)
Match 4: Newgate (2) v Station
Match 5: Letham (1) v Portcullis (3)
Match 6: Portcullis (2) v Portcullis (1)
Match 7: Shotz (2) v Shotz (1)
Match 8: Railway (1) v Newgate (1)

The format, as with all cup matches, will be nine singles and four doubles. Usual sign-in time of 8:00pm.

The losing teams in this round shall enter the Consolation Cup. Captains please note; failure to honour Knockout Cup fixtures will result in your team being excluded from the Consolation Cup.
The draw for the 2014/15 ADPL GM Properties (Tayside) Ltd Doubles Prelim/Last 64 Draw is as follows:
Bowlers
Jim Falconer* & Chris Mitchell
Peter Longmuir & Seonaid Wishart
Kyle Couttie & Marc Scott
Dale Matthews & Sean Barker

Burns Bar
Ricky Robertson & Wayne Robertson
David Jack & Graham Dunbar*
Alan Leonard & Dean Craig
James Allan & Drew Webster

Cliffburn


Chris Gray & Alan Doyle
Nicky Denson & Garry Mitchell*
Craig Fairweather & Wayne Green
Steven Scott & Kenny MacMillan
Legion
Patrick Nicoll* & Dave Robb
Andy Braid & John Maud
Gavin Cargill & Danny Ford
Dave Barthorpe & Craig Robertson
Merchants
Michael Emslie & Peem Twaddle
Stuart Kerr & Paul Wiltosz
Dale Ross & Jack Faulds
Robert Baird & George McKiddie*
Newgate
Jon Davies & Richard Crowder
Glen McEvoy* & Dale Leith
Martin Greer & Luke Lawson
Gordon Taylor & Colin MacPherson

Station


Brian Craig* & Bobby Bell
Andy Graham & Shane Twaddle
Kane Scott & Daryl Scott
Josh Longmuir & David Hughes

West Port Bar


Bob Tosh & Pete Boyd
Jeff Barthorpe* & Lindsay Palser
Richard Anthistle & Derrick Wilson
Sam McWalter & Gary Stewart
Portcullis (Bar)
Bobby Din & Willie Whitson
Steve Hallam* & Jamie Robertson
James Jackson & Kevin Duncan
Conor Warren & Blair Cunningham
Christian Watt & Michael Watt

Portcullis

(Darts)
Kenny MacPherson & Ian Davidson
Tam Walkingshaw & Mark McGlashan
Jamie Sievwright & Sonny McPhail
Ally Herald & Ryan Ross
Steve Webster* & Gordon Dickson
Ram's Heid (Bar)
Grant Forsyth & Alex Masson
Ian Anderson & Scott MacEwan*
Drew Johnston & Mark Wilkie
Walter Preston & Garry Craig
Dean McIntosh & Craig Gowans

Ram's Heid

(Kitchen)
Chris Smith & George Hartley
Gordon Smith* & Stuart Smith
Josh Donaldson & Liam Buchan
David Thornton & Fraser Gall
Rikki McWalter & Paul Smith
Shotz 1
Stuart Campbell* & Craig Humphreys
Steve Reid & Richard Paterson
Tom Dye & Ryan MacKenzie
Frank Ebsworth & Ewen Wilkie
Martin Cherry & Greg Alexander
Shotz 2
Craig Johnston & Scott Lyons
Darren Cook & Fraser Gerrie
Bruce Wallace & Karl Capewell
Dave McKay & Nic Van Rijn*
Kieran Harrison & Ricky Dewars
Shotz 3
Jim Ogilvie & Susan Scotland
Michael Bastow* & Mark Donald
Darrin Warren & John Greenhowe
Colin Smith & Kris Cameron
James Cowie & Neil Walker
Shotz 4
Callum Paton & Pamela Twaddle
Neil Davidson & Ryan Diplexcito
Liam Scott & Stephen Humphreys
John Fotheringham & Roy Middleton*
Jake Bruce & Gordon Soutar
*: denotes controller
These ties will be played out on Tuesday 10th February 2015 with a strict sign-in time of 8:00pm. Controllers are to phone/text the scores to the Match Secretary upon conclusion of the ties.
There will be 2 matches at each venue that have 4 pairs, where there are 5 pairs at a venue a prelim tie is required, each venue will provide 2 qualifiers.
All matches are best of five frames. Lag the first frame and alternative break from then onwards. Referees to be in place for all matches, upon completion of the first match it will be the winners who will referee the following match.
The first trophy of the ADPL Season has been won by Scott MacEwan after defeating Steve Reid by four frames to nil in the Grassroots 2014/15 Event. A strong field of eighty nine entries was received for this event and the champion thoroughly deserved his win.
Each of the quarter final matches required deciding frames, showing the strength of the field. Craig Gowans defeated Kent Mitchell; whilst Scott overcame Christian Watt; Craig Fairweather was ousted by Josh Longmuir and Steve beat Steve Hardwick.
The semi-finals were equally entertaining and Scott found himself 2-0 down to Craig Gowans but managed to dig deep and fight back to win through 3-2. Meanwhile Steve was having a battle with Josh which saw each player fight for that final place. Steve finally took his chance and secured his place.
The final was played by two players who had played superbly all day and showed the grit and determination required to make it to this stage. Unfortunately Steve couldn't keep up the momentum and the potting he had displayed for most of the day had deserted him in the final. Notwithstanding, Scott played some excellent pool throughout and during the final and ran out a worthy winner 4-0. Thanks are extended to Bobby Din of the Cliffburn Hotel (Sponsor) for his continued support of this event.
Photograph (l to r): Steve Reid (Runner Up) and Scott MacEwan (Winner)
Entries are now being taken for this yearís flagship ADPL events, the GM Properties (Tayside) Singles and Doubles. The entry fee remains at £3 per player for the Singles and £4 per pair in the Doubles. Entry forms have been distributed to all captains through the Captainís Packs issued on registration night, alternatively they are also available for download from the Arbroath Pool website.

The deadline for entries for both competitions is Friday 5th December 2014 at 7.00pm. All entries must be handed into the Shotz Pool and Snooker Hall on the appropriate forms for the attention of the Match Secretary or Treasurer or handed to them in person.
The West Port Bar 2 have advised that they are withdrawing from the ADPL with immediate effect.

Any fixtures versus West Port Bar 2 will now be a free week and awarded to the opponents as a 12-0 win.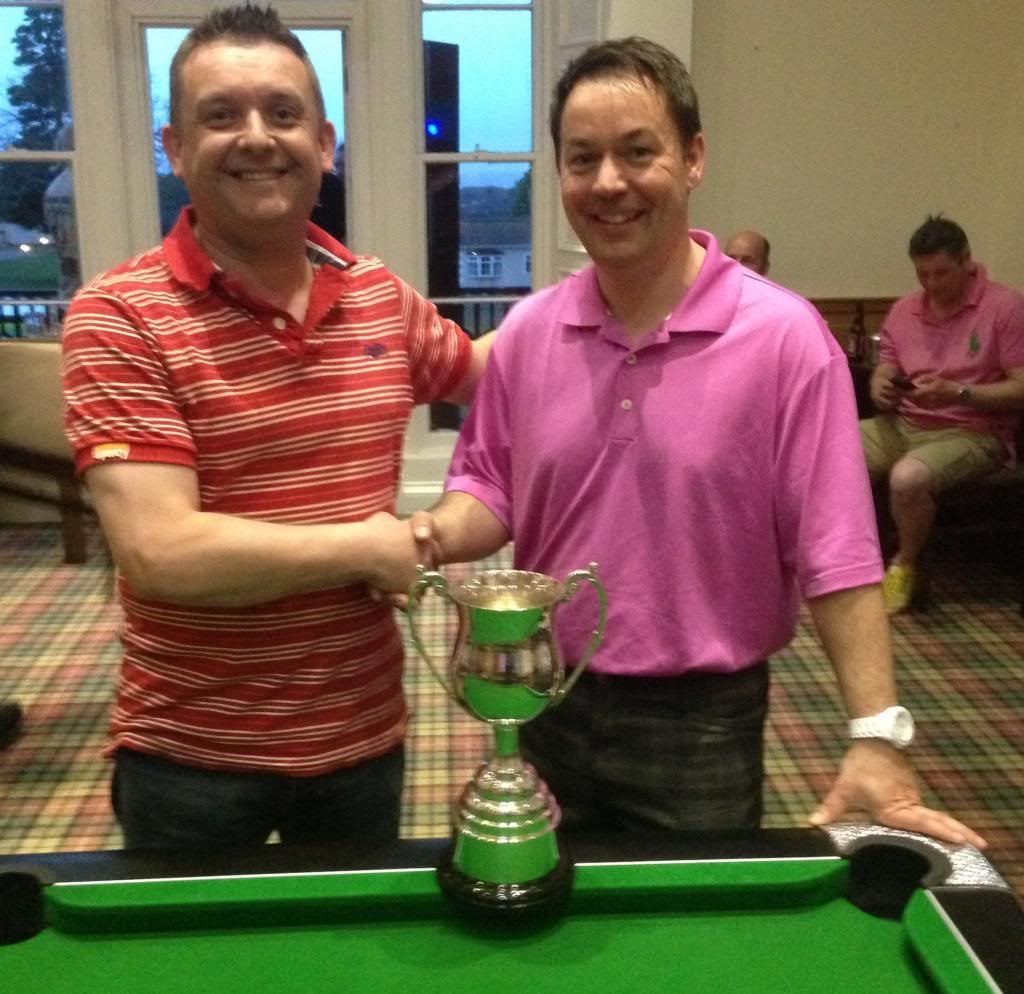 2014 ADPL Singles
Greg Alexander, Champion (left)
and Jonathan Cargill, Runner-Up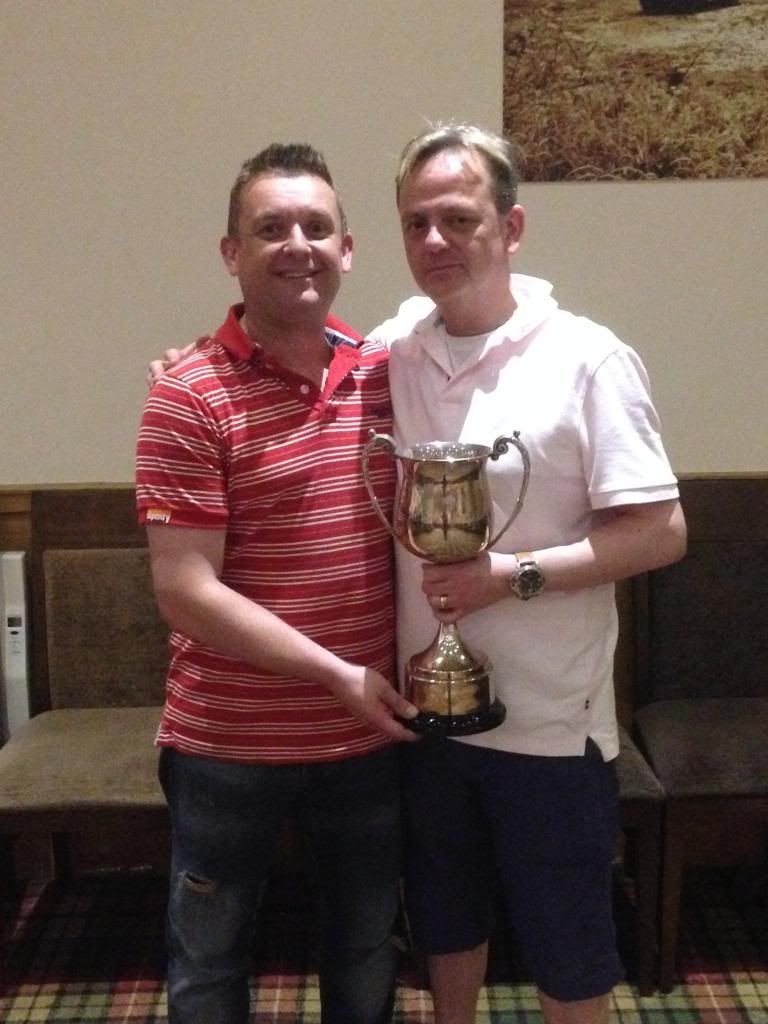 2014 ADPL Doubles Champions
Greg Alexander (left) and Martin Cherry
2014 Division 1 Champions
Portcullis 1
2014 Knockout Cup Champions
Ram's Heid 2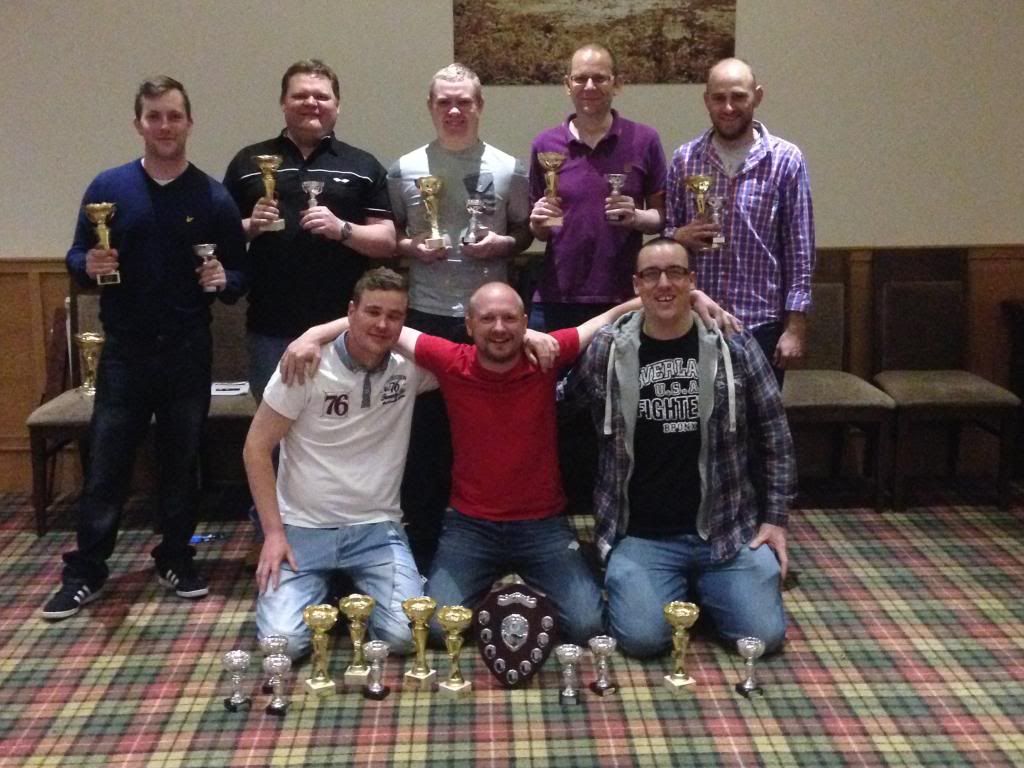 2014 Division 2 Champions
Burns Bar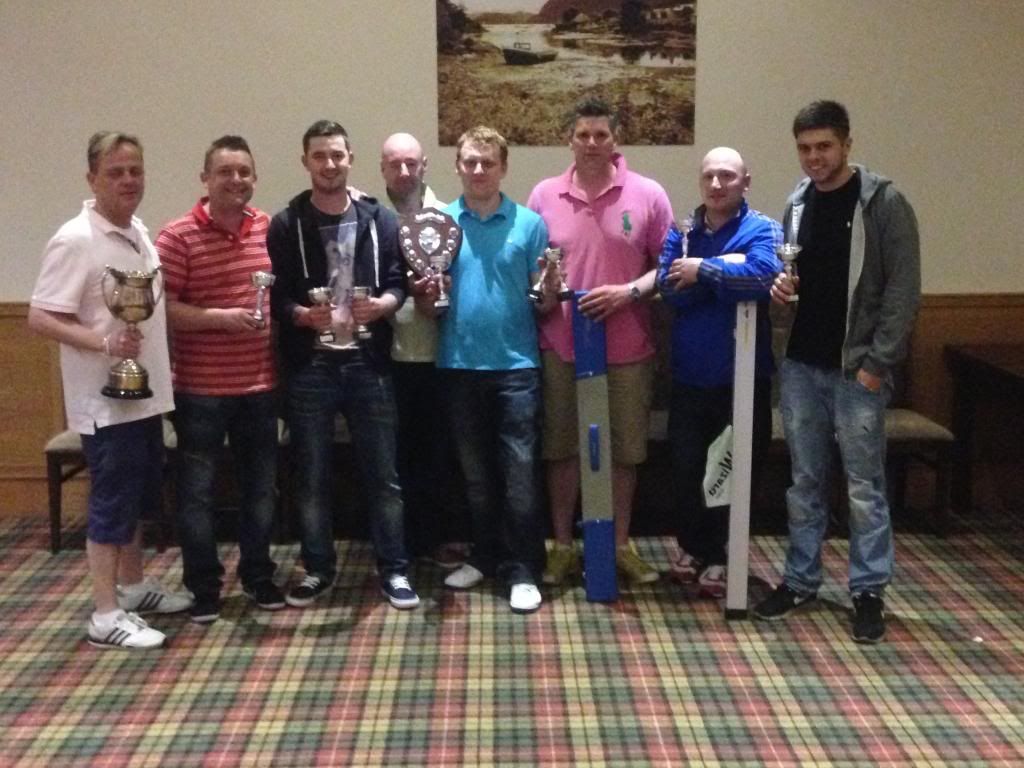 2014 Consolation Cup Champions
Merchants Club