Welcome to Arbroath & District Pool League
The annual ADPL Charity 4-man team qualifying round will be held on Tuesday 18th March. As a reminder, no league pool will take place on this Tuesday. Teams who qualify will then go on to the 4-man team Finals Day on Saturday 29th March 2013.

Entry remains at £10 per team with a maximum of four players per team. To allow the draw to be carried out in advance the deadline for entries will be Tuesday 11th March, with entries to be handed in to the Ramís Heid by 7:00pm that night, with entry form for the attention of the Match Secretary/Treasurer.

Last year some 24 teams entered with the qualifying teams having an enjoyable day out at 4-Man Finals Day, held at the Ram's Heid. This is the ADPLís chance to give something to a chosen charity (to be confirmed) and it is hoped as many players as possible will support the event.
Tam Walkingshaw successfully defended his Cliffburn Singles title by defeating David Jack by five frames to four in this year's final.
In a tense final Tam took the first frame after some tactical play, whilst David reverse dished the next frame to quickly make it 1-1 and then takes the lead 2-1. Tam then digs deep and reels of the next three frames to take a 4-2 lead. David gallantly holds on and he finds the determination to grind out the next two frames and square the match at 4-4. However, Tam makes most of an opportunity in the last frame and magnificently finishes the frame to win 5-4.
This was a fantastic final and a great effort by both players on the day. Thanks are extended to Lomond Leisure and the Cliffburn Hotel for their continued support of this event.
Pictured just before starting the final (left to right):-
Tam Walkingshaw (Winner), Bobby Din (Sponsor)
and David Jack (Runner-Up)
This year the ADPL presented two cheques for £500 each to Macmillan Cancer Support and DEBRA at Finals Day. The cheques were handed over by President Gordon Smith with players from pool league watching on.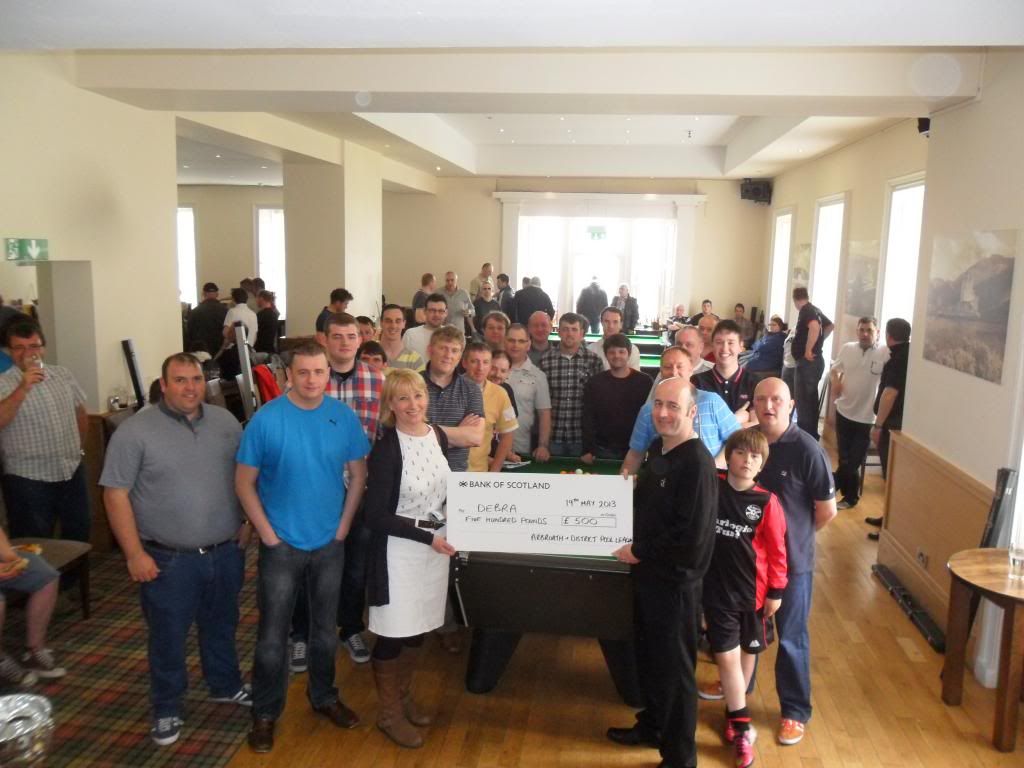 Charity Presentation to DEBRA.
Charity Presentation to MacMillan Cancer Support