Welcome to Arbroath & District Pool League
All team Captains are advised that Team Registration for the 2015-16 Season will be held on Monday 17th August in the Royal British Legion clubrooms, between 7.30pm and 8.30pm.
For those that do not have a Team Registration Form these are available on the website (www.arbroath.scottishpool.com) in the download section, or alternatively contact Michael Bastow to arrange delivery of a hard copy.
Greg Alexander (Runner-Up), Garry Mitchell (Sponsor)
and David Jack (Winner), (left to right)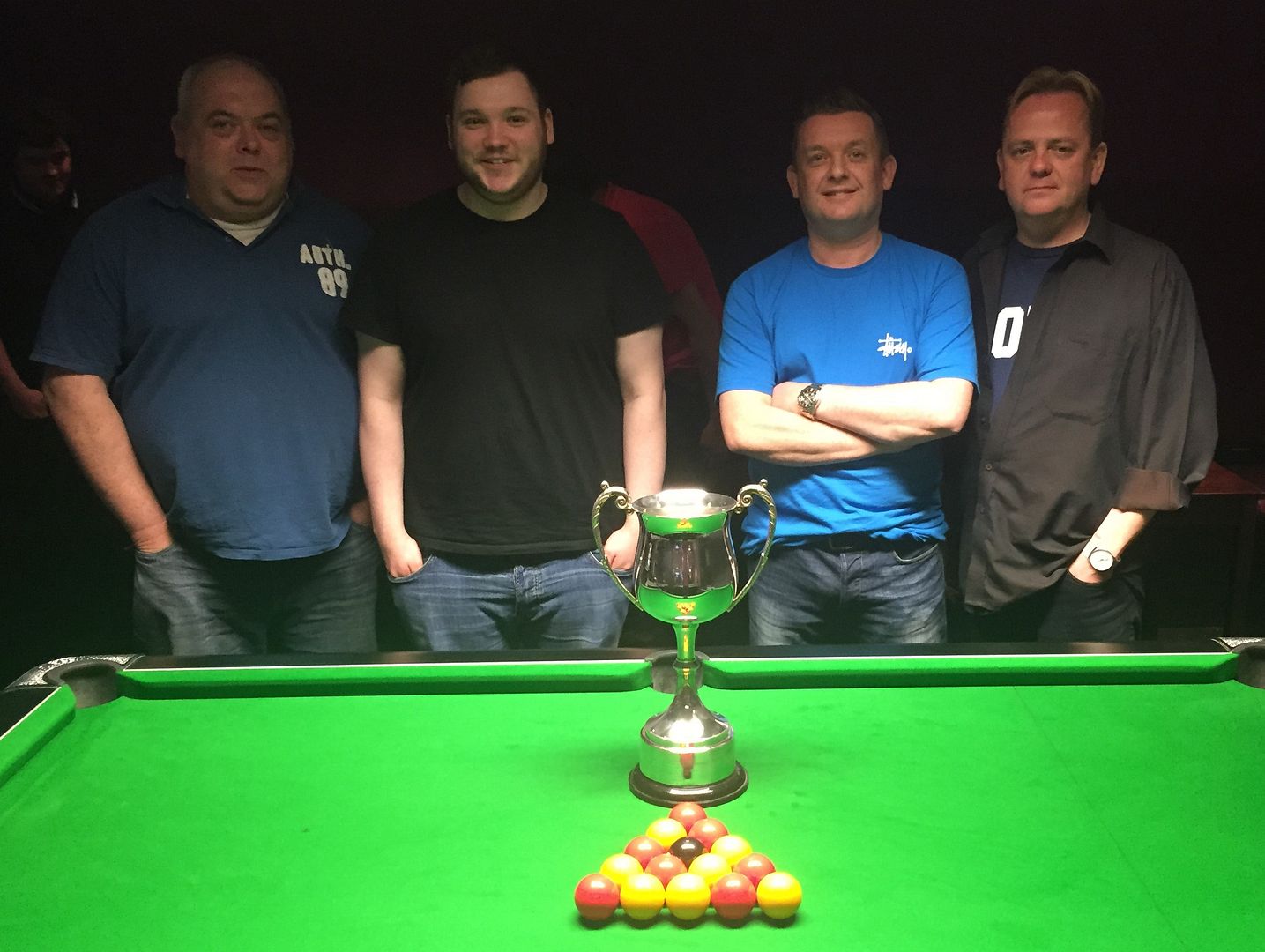 Wayne Robertson, Ricky Robertson (Runners-Up),
Greg Alexander and Martin Cherry (Winners), (left to right)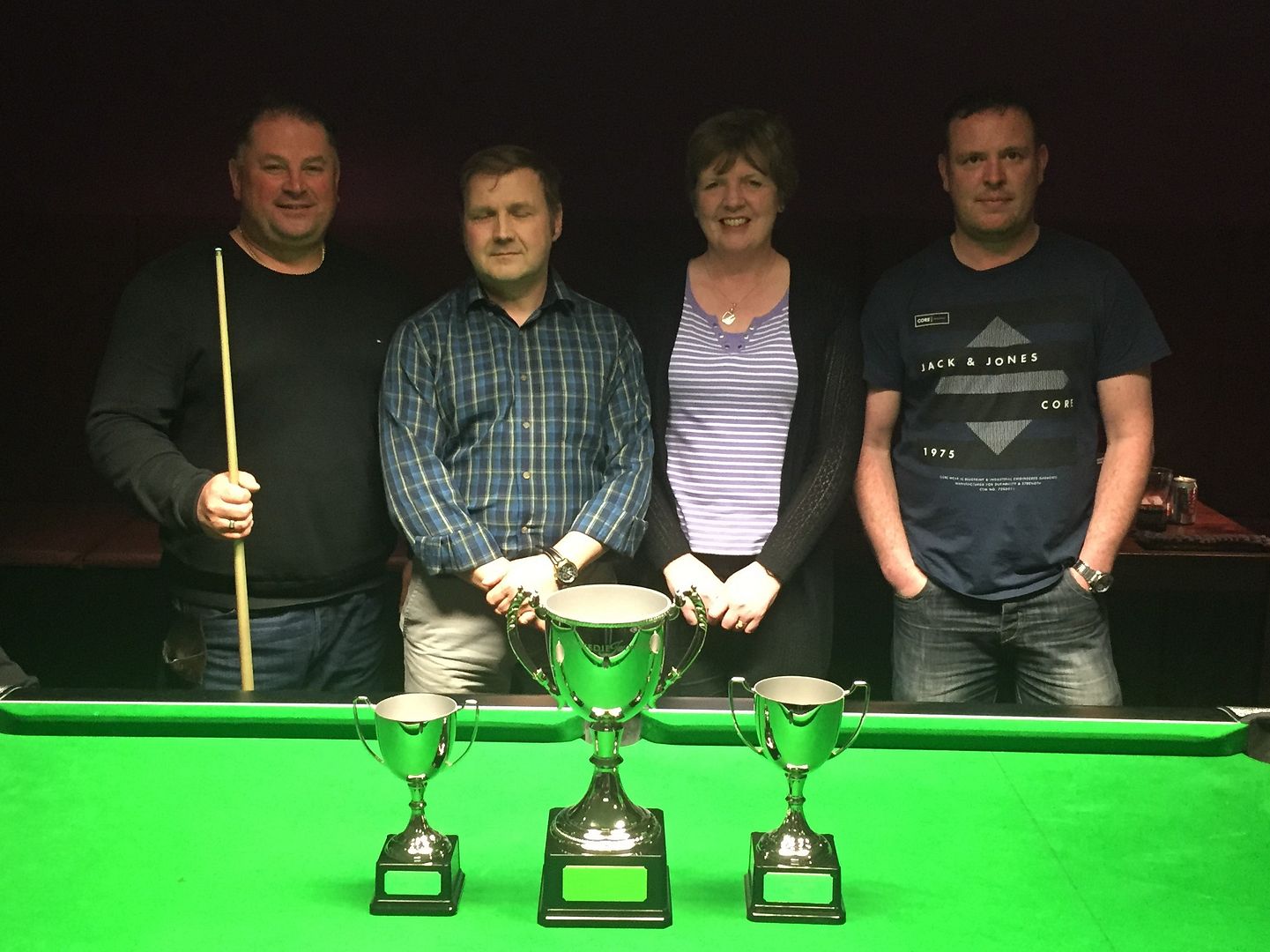 Scott Dunbar (winner), Sandy and Maureen Beedie (Sponsors)
and Graham Dunbar (runner-up), (left to right)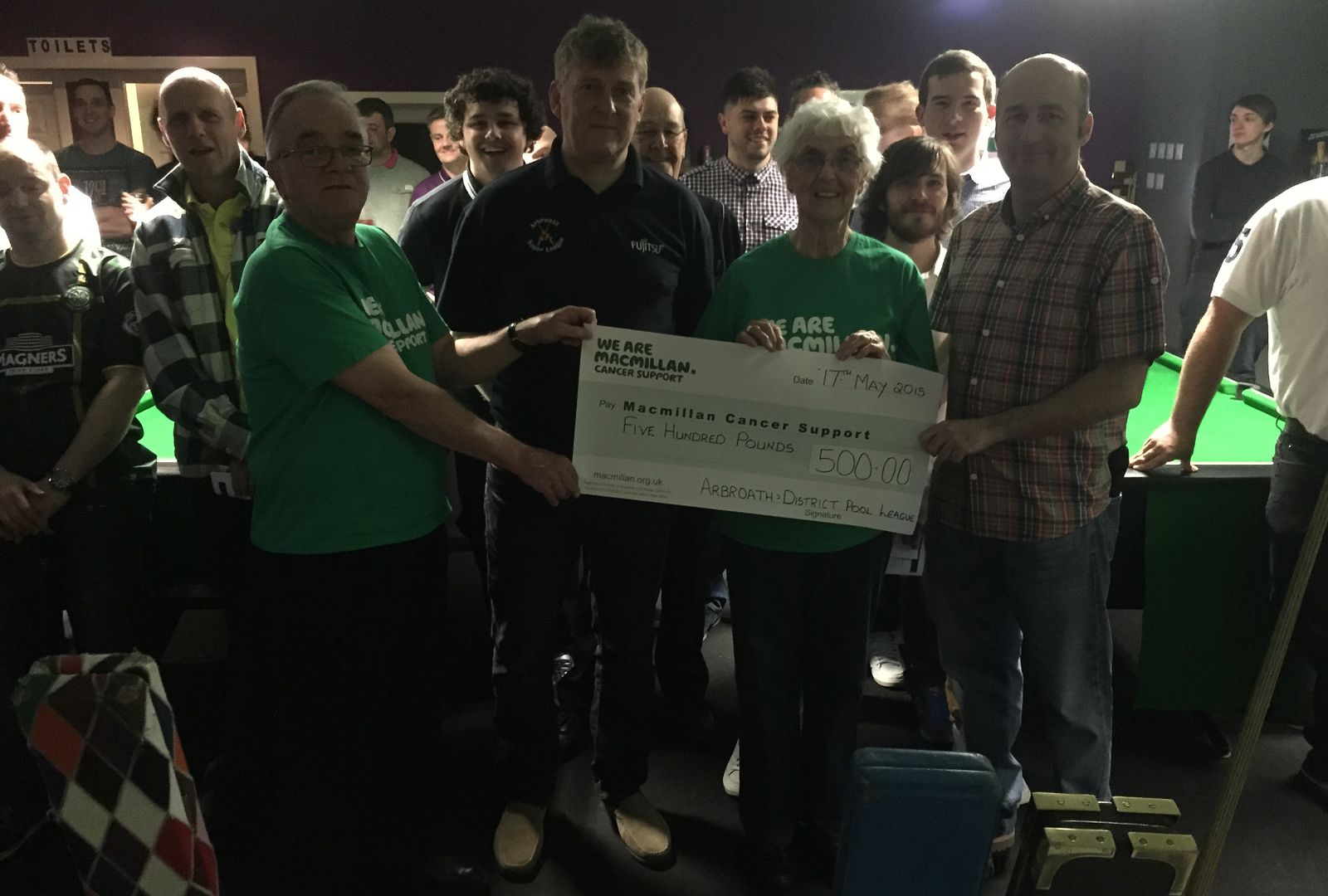 Macmillan Cancer Support Representatives receiving cheque
from Roy Middleton and Gordon Smith (far right)
Well done to David Jack and unlucky to Greg Alexander. Without a doubt the two best players on the day overall.

Thanks to all the players who attended the event (50 in total with only 3 no-shows). In the current climate with a huge amount of pool choices on offer, its good to see local events still being supported.

Thanks in particular go to the Portcullis through Neil, Jackie and all the bar and catering staff for continuing to sponsor the event and look after the players needs.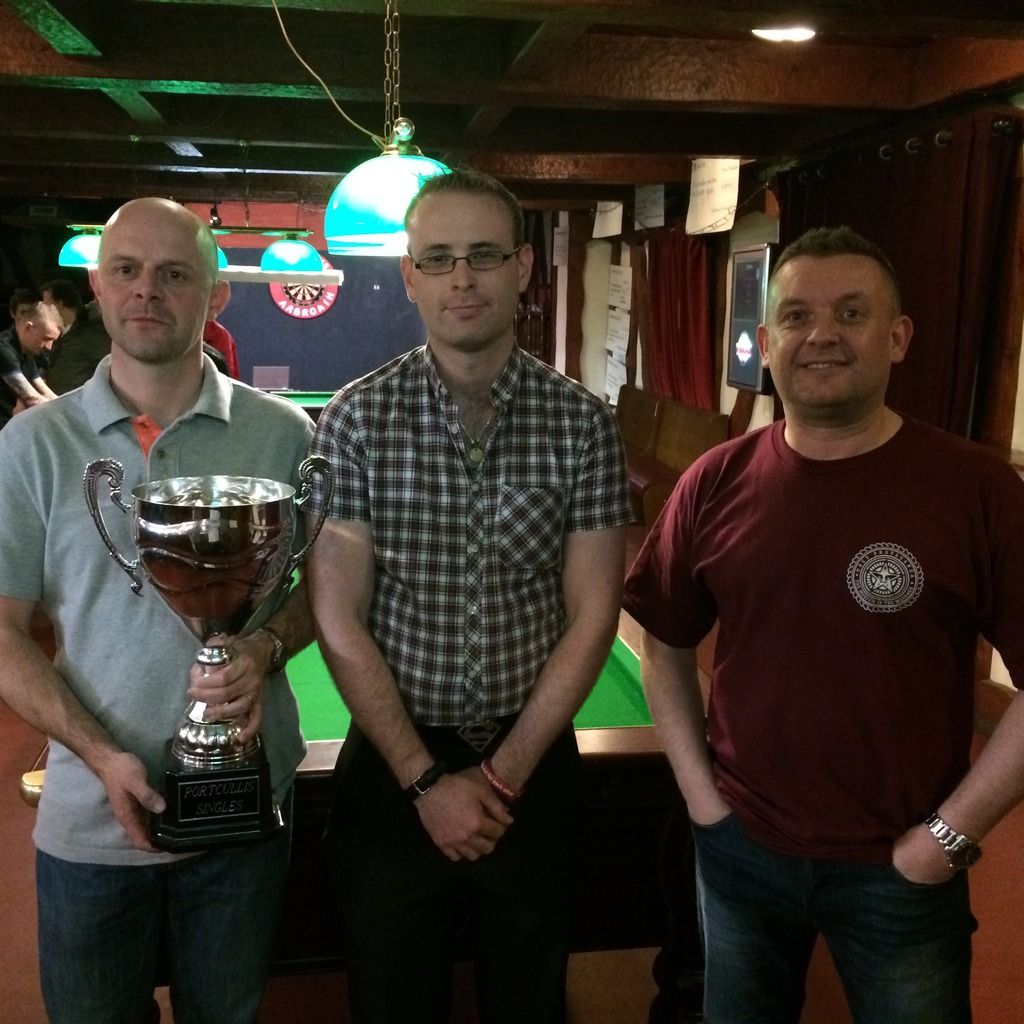 Portcullis Singles Finalists
David Jack (left) and Greg Alexander (right) with Neil Fairweather (Portcullis, Sponsor)
The Lomond Leisure Cliffburn Singles took place last Saturday and the 2015 Champion is Greg Alexander.
Greg took on Gordon Smith in the final. Although, it can be said that Gordon ran into Greg at the wrong time, Greg played some of his best pool of the day in the final and ran out winner with a 5-0 scoreline. Tremendous effort by both players today, well done.
Thanks are, once again, extended to Lomond Leisure and Cliffburn Hotel for their generous sponsorship and hosting.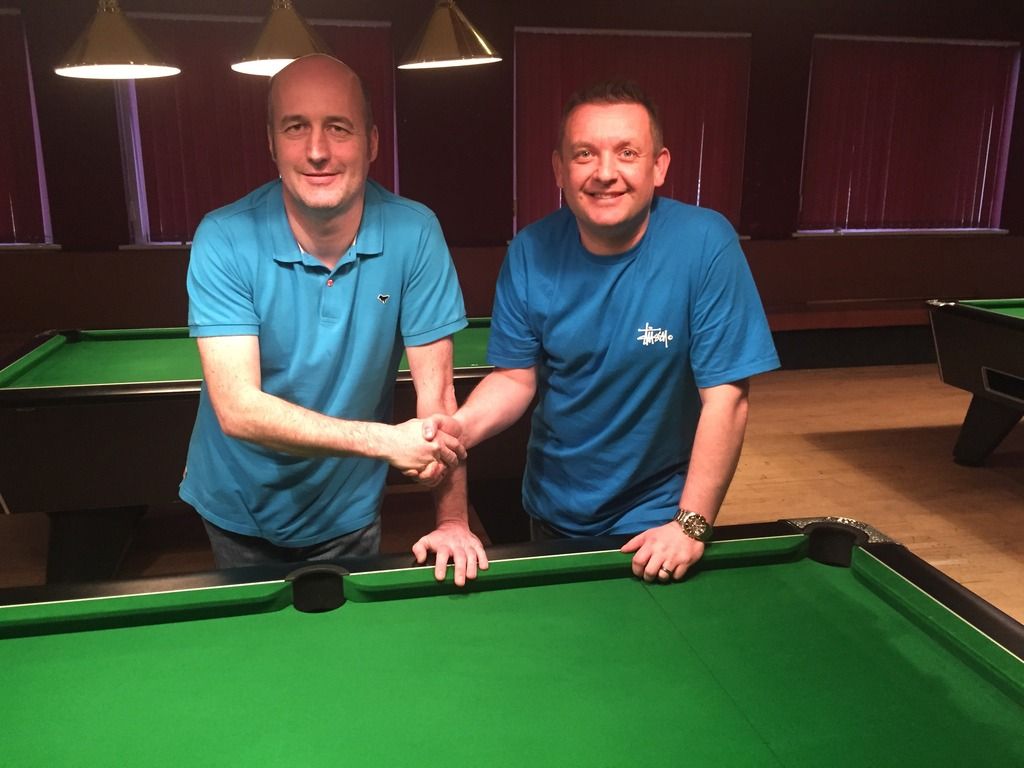 Lomond Leisure Cliffburn Singles 2015 Finalists
Gordon Smith (left) and Greg Alexander
Congratulations to Shotz 2A, who defeated Shotz 1A in the final; 3-1. Full results and report can be read by logging in to the website. Well done to both teams who played the final in great spirits, with the real winner being the Charity (Still to be chosen for 2014-15). Thanks are also extended to Bobby Din and the Cliffburn Hotel for hosting.

Pictured below is the finalists with sponsor Bobby Din (centre)


Congratulations to West Port Bar 1 who retained their Division 2 Cup Title after an epic battle with Shotz 3.

The match was a see-saw affair which went all the way to a deciding frame, where the West Port Bar managed to get themselves to the black first and claim the Cup.

Commiserations to Shotz 3 who put in a great performance on the night.

Thanks to the Portcullis and their staff for hosting this year's final.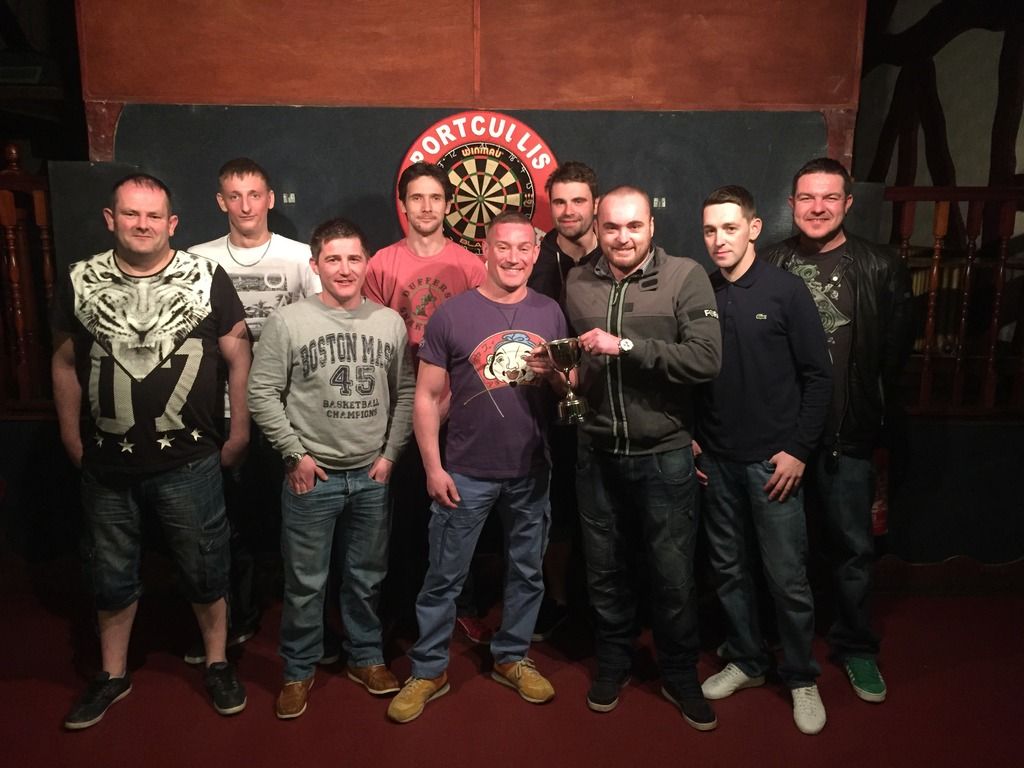 West Port Bar 1 - Division 2 Cup Winners
A significant number (30) of Arbroath's pool community travelled to Dundee last Saturday to play in the annual Tayside Singles tournament.
Congratulations to Arbroath's David Jack, who won the tournament with a 5-3 win over Dundee's Ryan Tenbruke in the final. David negotiated his way to the final without dropping a frame but found himself quickly 3-0 down in the final itself. He dug deep though and managed to wipe out the deficit and make it 3-3. David then kept the momentum going to get himself over the line and become the Tayside Champion! A thoroughly well-deserved victory after narrowly missing out in each final the previous two years.
Commiserations to Ryan, who also played some great pool throughout the day.
Thanks are extended to event sponsor John McHugh and the Old Mill, Dundee for hosting.
Photograph: John McHugh (Sponsor) presenting the
trophy to winner, David Jack (right)
The first trophy of the ADPL Season has been won by Scott MacEwan after defeating Steve Reid by four frames to nil in the Grassroots 2014/15 Event. A strong field of eighty nine entries was received for this event and the champion thoroughly deserved his win.
Each of the quarter final matches required deciding frames, showing the strength of the field. Craig Gowans defeated Kent Mitchell; whilst Scott overcame Christian Watt; Craig Fairweather was ousted by Josh Longmuir and Steve beat Steve Hardwick.
The semi-finals were equally entertaining and Scott found himself 2-0 down to Craig Gowans but managed to dig deep and fight back to win through 3-2. Meanwhile Steve was having a battle with Josh which saw each player fight for that final place. Steve finally took his chance and secured his place.
The final was played by two players who had played superbly all day and showed the grit and determination required to make it to this stage. Unfortunately Steve couldn't keep up the momentum and the potting he had displayed for most of the day had deserted him in the final. Notwithstanding, Scott played some excellent pool throughout and during the final and ran out a worthy winner 4-0. Thanks are extended to Bobby Din of the Cliffburn Hotel (Sponsor) for his continued support of this event.
Photograph (l to r): Steve Reid (Runner Up) and Scott MacEwan (Winner)