Welcome to Arbroath & District Pool League
It is with great pleasure that the ADPL Committee can announce that Sidey have kindly sponsored the ADPL for the 2016-17 Season.

The Committee would like to extend their thanks to Sidey for their generous sponsorship deal.

In addition, we must also thank Gordon Dickson who has been instrumental in securing this sponsorship.

Please have a look at Sidey's website, http://www.sidey.co.uk/, to view their many products.

Windows - Doors - Conservatories - Sunrooms - Roofline - Kitchens - Bathrooms - Blinds - Easy Turf™ - Glass

If you do decide to make a purchase then please mention the ADPL.

Regards,
Michael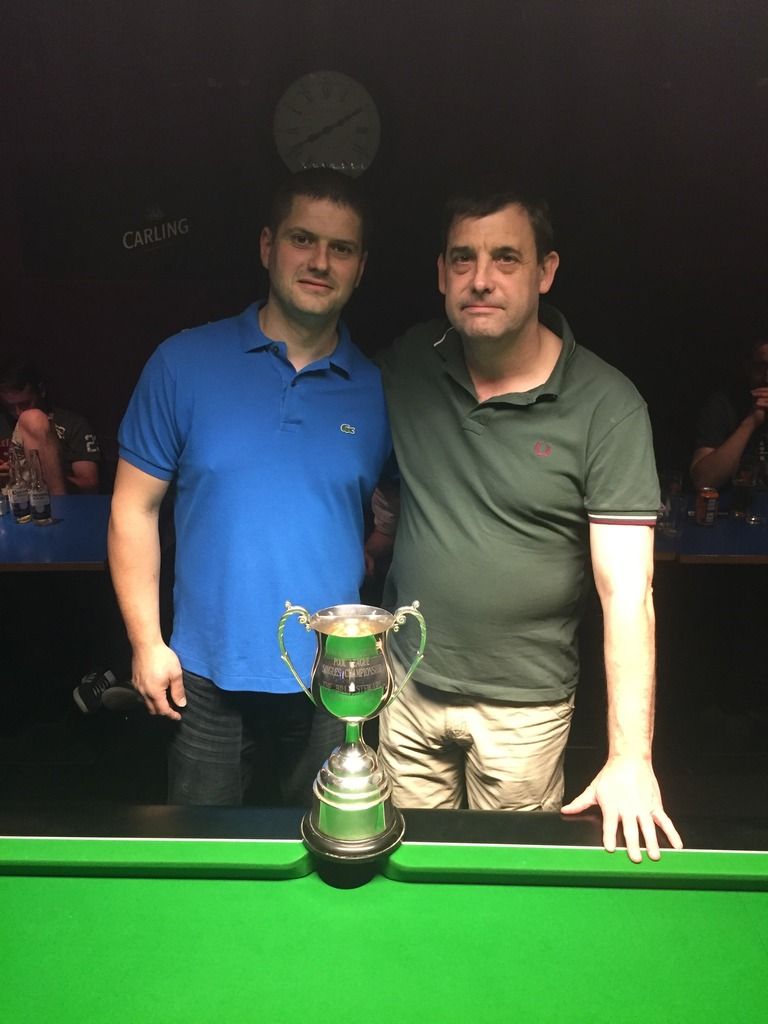 2016 Singles Finalists (left to right)
Nick Denson (Runner-Up)
and Steve Webster (Winner)
Doubles Finalists with Sponsor (left to right)
David Jack, Graham Dunbar (Winners), Garry Mitchell (Sponsor)
Stuart Smith and Gordon Smith (Runners Up)
2016 Knockout Cup Champions - Shotz 1
2016 Consolation Cup Winners - Newgate 1
Pictured: (left to right) Dean Anderson (runner-up),
Sandy Beedie (Sponsor) and Ryan Fleming (winner)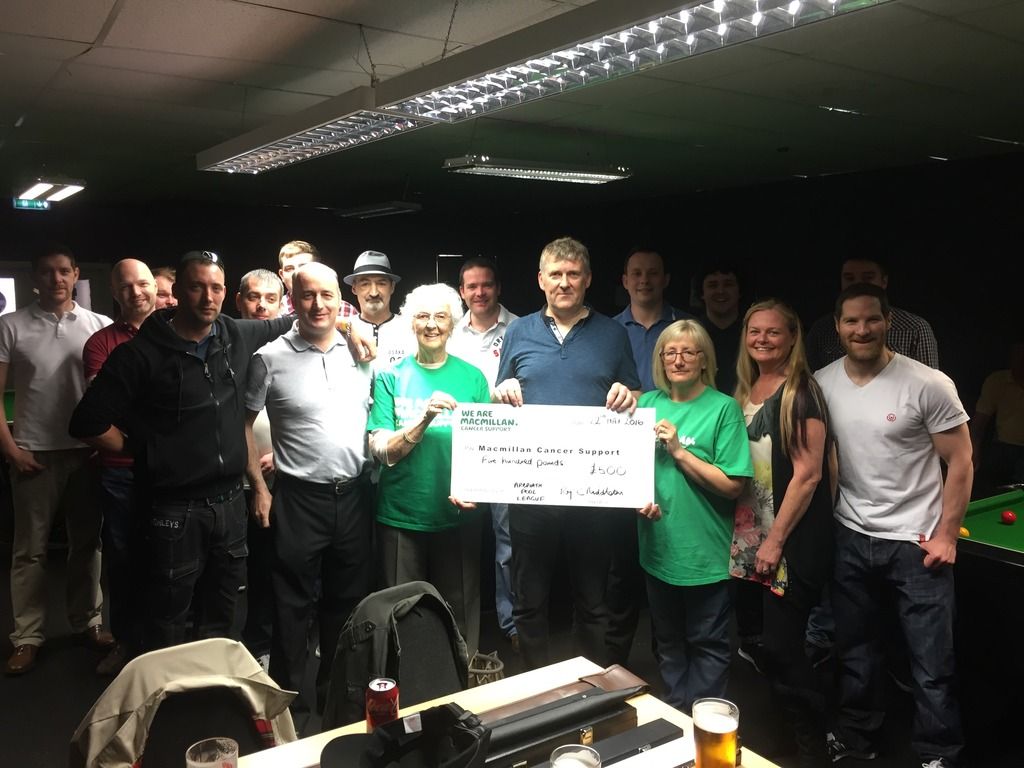 This year the ADPL presented a cheque for £500 to Macmillan Cancer Support at Finals Day.
The cheque was handed over jointly to the local representatives by President Gordon Smith
and Treasurer Roy Middleton, with the pool players watching on.
Congratulations to Greg Alexander who successfully defended his Lomond Leisure Cliffburn Singles title, defeating Gary McLeish 5-2 in the final. Commiserations to Gary who ran into Greg just at the wrong time, Gary should still be proud of his efforts after playing consistently well all day.
A massive thanks go to the sponsors of the event, Bobby Din (Cliffburn), along with John and Michelle of Lomond Leisure. Lomond donated two cues and cases where one was sold on the day via a football card and raised £200 towards the ADPL charity pot.
Thank you to all of the players that contributed, Bobby of the Cliffburn won the first set. The second will be sold at a later event.
In addition, a huge thanks to all the players who competed.
A full list of results is available on the ADPL website.
Pictured (l to r): Greg, Bobby, Michelle, John and Gary
This year's event attracted some twenty-three teams and saw a change to the format with a 'penatly shootout' introduced if teams were tied after the singles stage. Congratulations to Portcullis 1B (Ian Anderson, Gordon Dickson, Scott MacEwan and Steve Webster), who are this year's 4-Man Team Champions after defeating Shotz 1A (Mark Donald, Greg Alexander, David Jack and Roy Middleton) in an exciting final on penalties. The score was four frames all and required a penalty shoot-out to determine a winner. Portcullis eventually winning five-three on penalties.
The Committee hope that all the players involved enjoyed the new format and any feedback would be greatly appreciated. They also thank all the players who attended and contributed a great sum of £230 towards the charity pot for the end of season presentation. The charity is still to be decided for this year.
Thanks are also extended to Shotz for allowing us to host the event in the hall and who have also kindly sponsored the event and will provide trophies for the winners at Finals Day.
4-Man Team Champions (l to r): Steve Webster, Ian Anderson,
Gordon Dickson and Scott MacEwan
Congratulations to Portcullis 3 who are this year's Division 2 Cup Champions, after a narrow 7-6 win over Bowlers 1. Well done to Liam Scott and his team, commiseration to Jim Cowie and his team. In another day it could easily have been the other way around.
It was a see-saw affair, similar to last year final and none of the teams could establish a lasting lead. After ten frames both teams could not be separated which continued after twelve frames. The decider saw both teams have chances but Portcullis 3 were then presented with the breakthrough to win, where Lindsay Palser potted the winning black ball to win Portcullis the match.
Thanks are extended to Richard and Brenda of the Rams Heid who kindly hosted this year's final.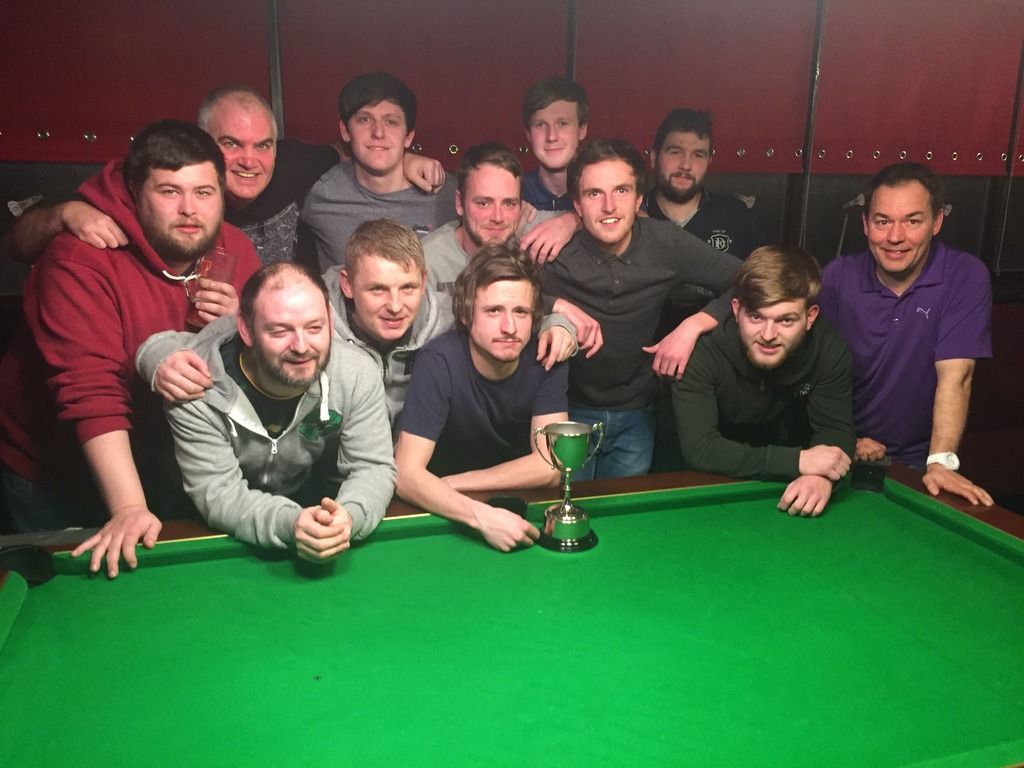 Pictured: Portcullis 3, Division 2 Cup Champions 2015-16
This year's final was contested by Steve Webster and Graham Dunbar. The final was decent standard and kept the spectators interested throughout. Steve drew first blood and followed it up with the next two to take a 3-0 lead. Graham got his account up and running in the next for 3-1 but Steve hit straight back in the next to restore his 3 frame advantage. A chance to wrap up the win went begging and Graham closed the gap to 4-2. This galvanised him into a flurry of brilliant potting and he took two great finishes back-to-back to force the match into a decider. Steve had won the lag and had the honour of breaking and proceeded to respond with his own break and dish to take the title and £170 prize money.
Congratulations to Steve and commiserations to Graham for a spirited comeback. He got £80 for his efforts.
Special thanks as always go to Jackie, Neil, Kris and all the bar staff at the Portcullis for looking after the players.
Pictured (left to right): Steve Webster, Winner;
Jackie Falconer, Portcullis (Sponsor) and Graham Dunbar, Runner Up.