Welcome to Arbroath & District Pool League
This year's final was contested by Steve Webster and Graham Dunbar. The final was decent standard and kept the spectators interested throughout. Steve drew first blood and followed it up with the next two to take a 3-0 lead. Graham got his account up and running in the next for 3-1 but Steve hit straight back in the next to restore his 3 frame advantage. A chance to wrap up the win went begging and Graham closed the gap to 4-2. This galvanised him into a flurry of brilliant potting and he took two great finishes back-to-back to force the match into a decider. Steve had won the lag and had the honour of breaking and proceeded to respond with his own break and dish to take the title and £170 prize money.
Congratulations to Steve and commiserations to Graham for a spirited comeback. He got £80 for his efforts.
Special thanks as always go to Jackie, Neil, Kris and all the bar staff at the Portcullis for looking after the players.
Pictured (left to right): Steve Webster, Winner;
Jackie Falconer, Portcullis (Sponsor) and Graham Dunbar, Runner Up.
The 2016 Tayside Singles attracted 119 entries for this year's competition. A fantastic field of entries, with a wealth of talent on display.
Scott Dunbar (Perth) clinched the title by five frames to four, defeating David Jack (Arbroath). The final was a phenomenal standard and Scott looked to have it wrapped up when he raced in to a four-two lead. David wasn't ready to give up the title he won last year just yet and fought back to four frames all. Unfortunately he couldn't get that elusive last frame and Scott took his chance when it arrived. Congratulations to Scott. A special mention for David though, his fourth Tayside Singles final in a row, a fantastic achievement in itself.
Thanks are extended to Shotz and their staff for their kind sponsorship and friendly hospitality throughout the day.
Photograph (l to r): David Jack, runner up;
Marc Fleming (Sponsor, Shotz)and Scott Dunbar, winner.
There were 67 entries for this year's ADPL Grassroots tournament, all of whom were aiming to become the 2015/16 Champion. A broad range of youth and experienced players was on show and it was good to see some of the younger players take their chances when presented.
A good final, witnessed by those that stayed back to watch, was played by two players who reached it by playing and defeating good, experienced opposition on their way. Congratulations to Michael Bastow, who defeated Jamie Robertson 5-4 in the final and scooped the first trophy of the ADPL Season.
Pictured above (l to r): Jamie Robertson, Bobby Din (Sponsor) and Michael Bastow
A full review of the tournament can be viewed by logging into the discussion forums.
The tournament format offered plenty of pool for everyone and I think I speak for most of the players in saying it was a great success. The group stages produced a mixture of results and the full list of them are available by logging into the website and viewing the Arbroath Master 2015 forum thread.
Graham Dunbar won the Plate Event, 3-2, after a determined Josh Longmuir missed a difficult black for 3-0!!! Well done Graham, unlucky Josh.
In the Main Event, Paddy Nicoll booked his place in the final with a 5-1 win over fellow teammate, Roy Middleton. Paddy was aiming to retain the title he won when this event was last played out and wasn't prepared to surrender it without a fight. David Jack faced Alex Cargill in the other semi-final, with Alex hot off the heels of wins against Graham Dunbar and Gordon Smith he was full of confidence. However, David was not to be halted and won the match 5-0. Unlucky to both Roy and Alex for reaching the semi-finals.
The Finalists. Paddy started the group stage well and finished undefeated, where David had managed to secure top spot on frame difference. Both Paddy and David had played some excellent pool throughout the day. David won the final with a 6-1 scoreline. Congratulations to David, commiserations to Paddy.
Thanks, again, are extended to Bobby Din and his staff at the Cliffburn for making us feel welcome and their hospitality.
Pictured below are the finalists:- (Left to Right) Paddy Nicoll, Bobby Din (Sponsor) and David Jack.
This years glossy fixture lists have been distributed around the various venues, with the exception of Letham, which will be with them this week.

With that in mind, no further texts shall be sent out regards fixtures for the league campaign, please refer to the fixture lists in the venue, on the website or the Arbroath Herald.

I would also like to take this opportunity to thank the various sponsors who have taken ads on this years lists, the continued and new support is most appreciated.
Please note, Stag 2 have informed the ADPL Committee tonight that they will no longer be competing this season. Any fixture against Stag 2 will be awarded to the opponents as a 12-0 walkover.

It is very unfortunate the timing of this news, which leaves no option but to proceed with the fixtures as published.

Please accept our apologies for this.
Greg Alexander (Runner-Up), Garry Mitchell (Sponsor)
and David Jack (Winner), (left to right)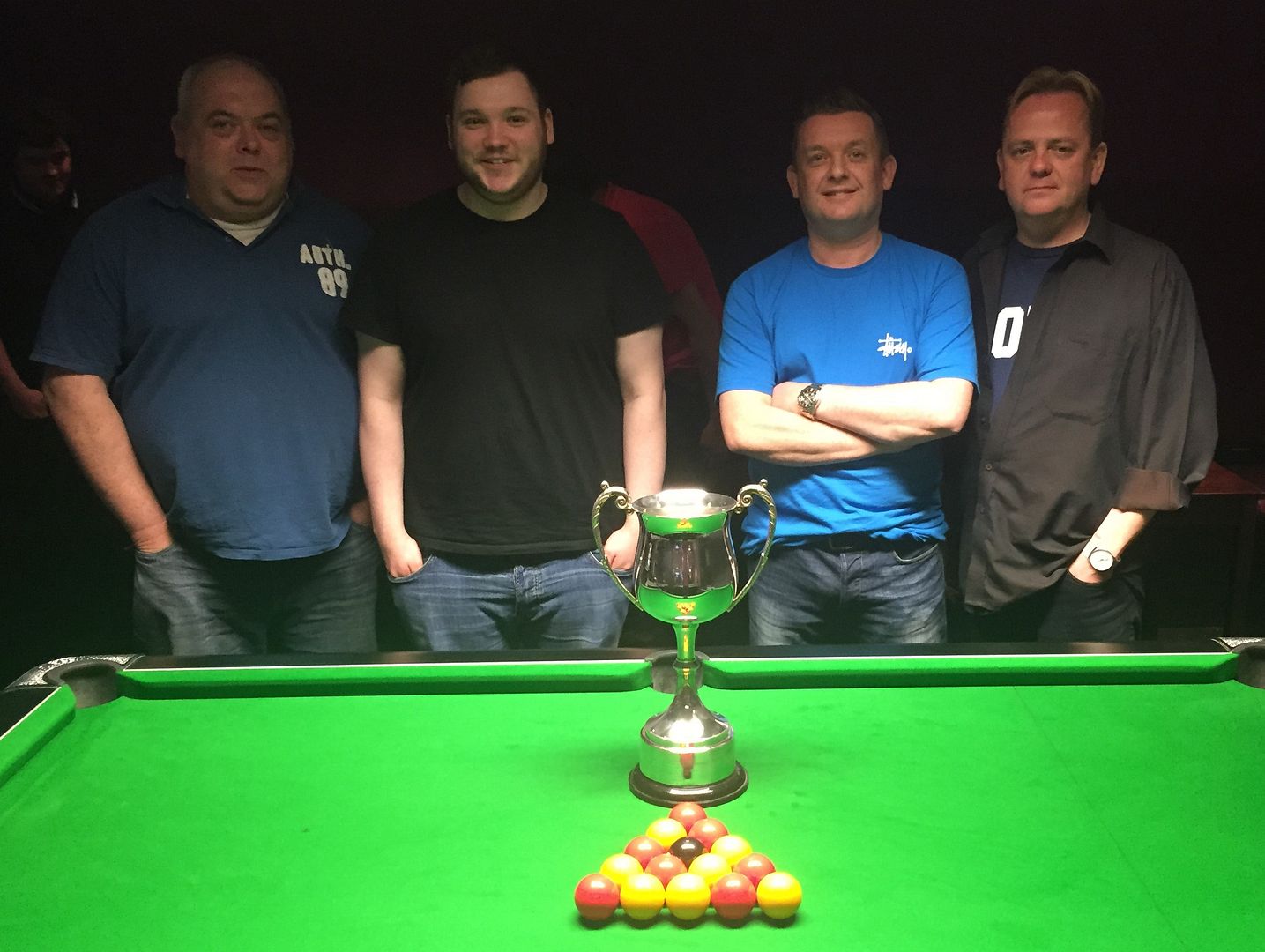 Wayne Robertson, Ricky Robertson (Runners-Up),
Greg Alexander and Martin Cherry (Winners), (left to right)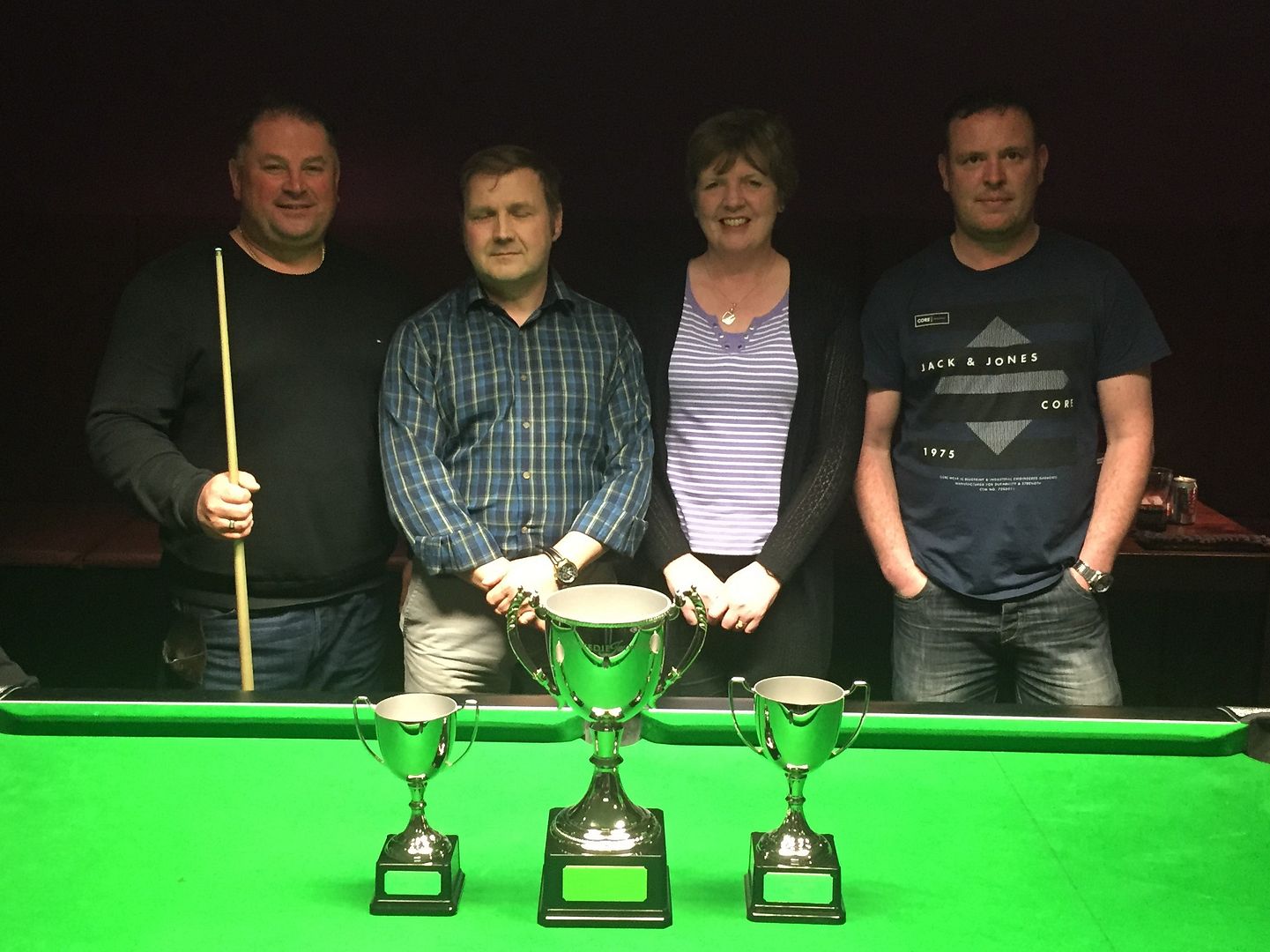 Scott Dunbar (winner), Sandy and Maureen Beedie (Sponsors)
and Graham Dunbar (runner-up), (left to right)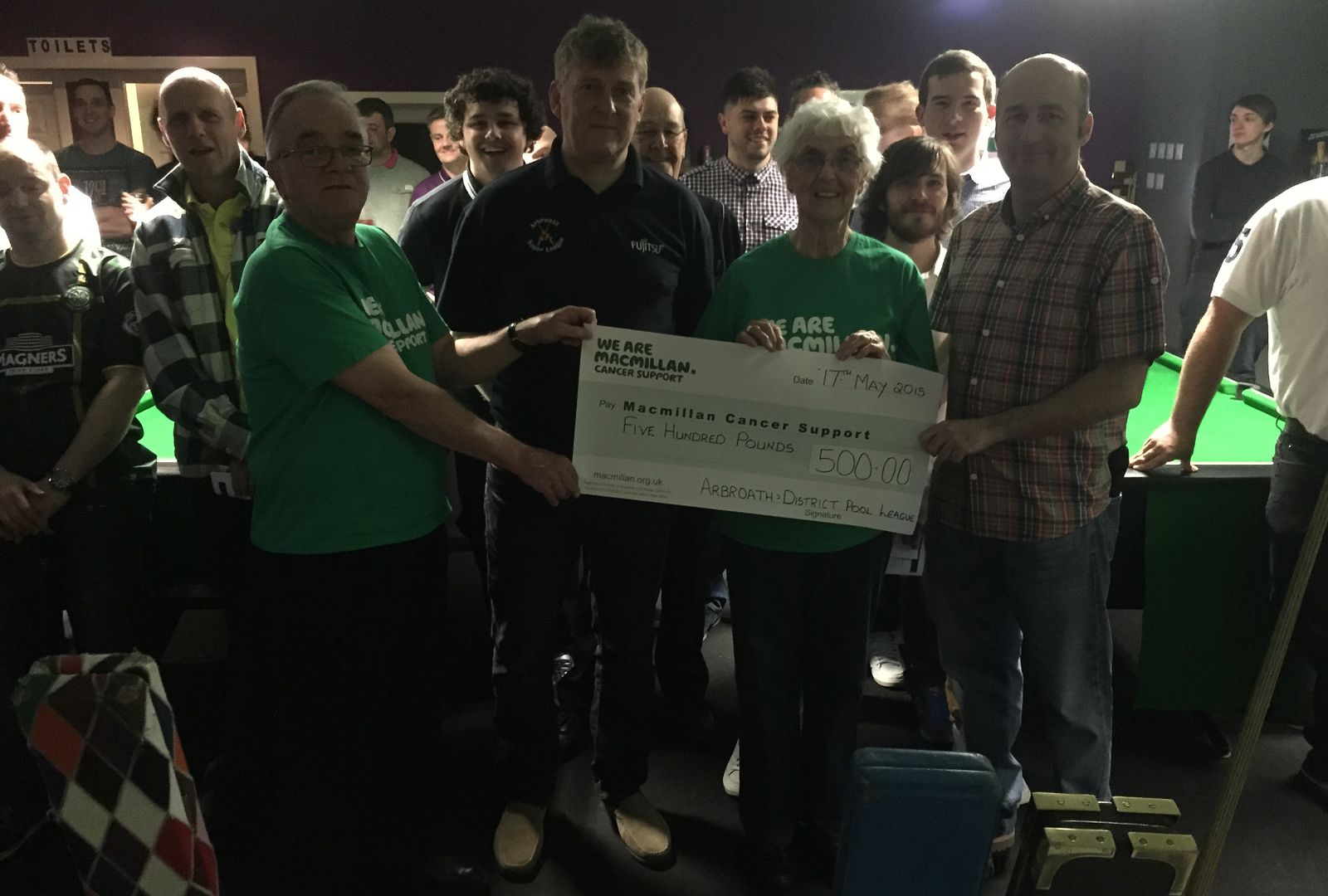 Macmillan Cancer Support Representatives receiving cheque
from Roy Middleton and Gordon Smith (far right)
Well done to David Jack and unlucky to Greg Alexander. Without a doubt the two best players on the day overall.

Thanks to all the players who attended the event (50 in total with only 3 no-shows). In the current climate with a huge amount of pool choices on offer, its good to see local events still being supported.

Thanks in particular go to the Portcullis through Neil, Jackie and all the bar and catering staff for continuing to sponsor the event and look after the players needs.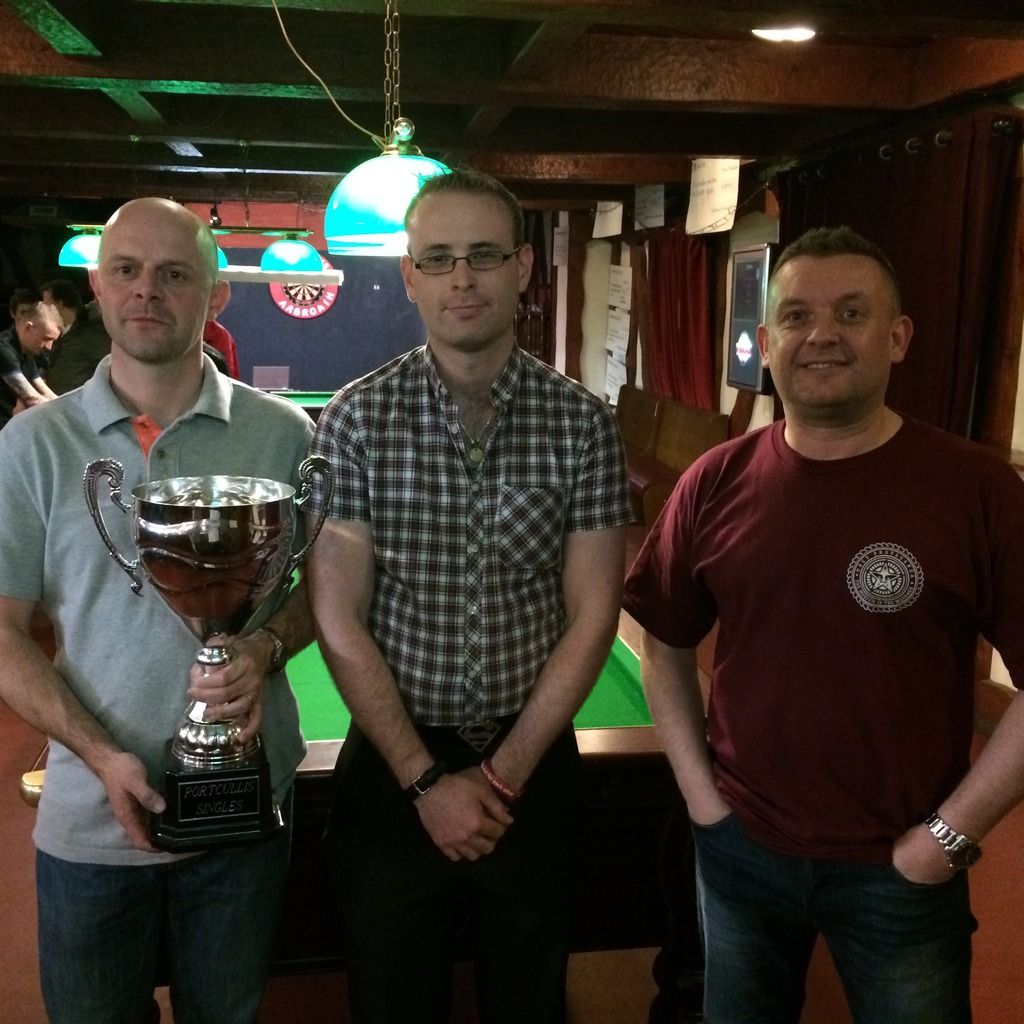 Portcullis Singles Finalists
David Jack (left) and Greg Alexander (right) with Neil Fairweather (Portcullis, Sponsor)