Welcome to Arbroath & District Pool League
The GM Properties (Tayside) Ltd ADPL Doubles round of Last 32 will take place on Wednesday 4th March 2015 with a strict sign-in time of 8:00pm. Controllers are to phone/text the scores to the Match Secretary upon conclusion of the ties.
There will be 2 matches at each venue providing 2 qualifiers. All matches are best of five frames. Lag the first frame and alternative break from then onwards.
Referees to be in place for all matches, upon completion of the first match it will be the winners who will referee the following match. The draw is as follows:
*: denotes controller
Burns Bar


Dale Ross & Jack Faulds




Glen McEvoy* & Dale Leith




Josh Donaldson & Liam Buchan




Darrin Warren & John Greenhowe

Cliffburn


Liam Scott & Stephen Humphreys




Steven Scott & Kenny MacMillan




David Jack & Graham Dunbar*




Andy Braid & John Maud

Legion


Sam McWalter & Gary Stewart




Ian Anderson & Scott MacEwan*




Tom Dye & Ryan MacKenzie




Walter Preston & Garry Craig

Merchants


Steve Hallam & Jamie Robertson




Robert Baird & George McKiddie




Gordon Smith* & Stuart Smith




Craig Johnston & Scott Lyons

Newgate


Patrick Nicoll & Lee Strachan




Peter Longmuir & Seonaid Wishart




Martin Cherry & Greg Alexander*




Chris Gray & Alan Doyle

Portcullis


Jon Davies & Richard Crowder




Josh Longmuir & Ian Brunton




Jim Falconer & Chris Mitchell




Brian Craig* & Bobby Bell

Ram's Heid


Conor Warren & Blair Cunningham




Kieran Harrison & Ricky Dewars




Jeff Barthorpe* & Lindsay Palser




Tam Walkingshaw & Mark McGlashan

Shotz


Steve Webster & Gordon Dickson




Michael Bastow* & Mark Donald




Neil Davidson & Ryan Diplexcito




Ricky Robertson & Wayne Robertson
Notice is given hereby that the Arbroath and District Pool League (ADPL) will hold an Extraordinary General Meeting (EGM) to discuss and seek resolution on the venue for ADPL Finals Weekend.
The meeting will be at 7.30pm on Thursday 12th March at the British Legion clubrooms.
All members of the ADPL are invited to attend.
The Division 2 Cup Final between West Port 1 and Shotz 3 will be played on Wednesday 25th March (rescheduled due to International Call-ups). The venue for this years final is the Portcullis.

The usual 8pm sign in applies. Winning Captain to text or 'phone the score to the Match Secretary upon completion of the match.

Note to Captains: There is no 'home' team and both Captains shall write down their first three singles and show the opposing captain simultaneously. Upon completion of the first three singles the same process is followed until the ninth single is completed. Doubles, if required, shall be written one at a time.


I would like to take this opportunity to wish both Captains and their teams all the best for the Final. West Port Bar are gunning to retain the title they won last year, whilst Shotz 3 are aiming to get their first piece of silverware.
A significant number (30) of Arbroath's pool community travelled to Dundee last Saturday to play in the annual Tayside Singles tournament.
Congratulations to Arbroath's David Jack, who won the tournament with a 5-3 win over Dundee's Ryan Tenbruke in the final. David negotiated his way to the final without dropping a frame but found himself quickly 3-0 down in the final itself. He dug deep though and managed to wipe out the deficit and make it 3-3. David then kept the momentum going to get himself over the line and become the Tayside Champion! A thoroughly well-deserved victory after narrowly missing out in each final the previous two years.
Commiserations to Ryan, who also played some great pool throughout the day.
Thanks are extended to event sponsor John McHugh and the Old Mill, Dundee for hosting.
Photograph: John McHugh (Sponsor) presenting the
trophy to winner, David Jack (right)
The first trophy of the ADPL Season has been won by Scott MacEwan after defeating Steve Reid by four frames to nil in the Grassroots 2014/15 Event. A strong field of eighty nine entries was received for this event and the champion thoroughly deserved his win.
Each of the quarter final matches required deciding frames, showing the strength of the field. Craig Gowans defeated Kent Mitchell; whilst Scott overcame Christian Watt; Craig Fairweather was ousted by Josh Longmuir and Steve beat Steve Hardwick.
The semi-finals were equally entertaining and Scott found himself 2-0 down to Craig Gowans but managed to dig deep and fight back to win through 3-2. Meanwhile Steve was having a battle with Josh which saw each player fight for that final place. Steve finally took his chance and secured his place.
The final was played by two players who had played superbly all day and showed the grit and determination required to make it to this stage. Unfortunately Steve couldn't keep up the momentum and the potting he had displayed for most of the day had deserted him in the final. Notwithstanding, Scott played some excellent pool throughout and during the final and ran out a worthy winner 4-0. Thanks are extended to Bobby Din of the Cliffburn Hotel (Sponsor) for his continued support of this event.
Photograph (l to r): Steve Reid (Runner Up) and Scott MacEwan (Winner)
The West Port Bar 2 have advised that they are withdrawing from the ADPL with immediate effect.

Any fixtures versus West Port Bar 2 will now be a free week and awarded to the opponents as a 12-0 win.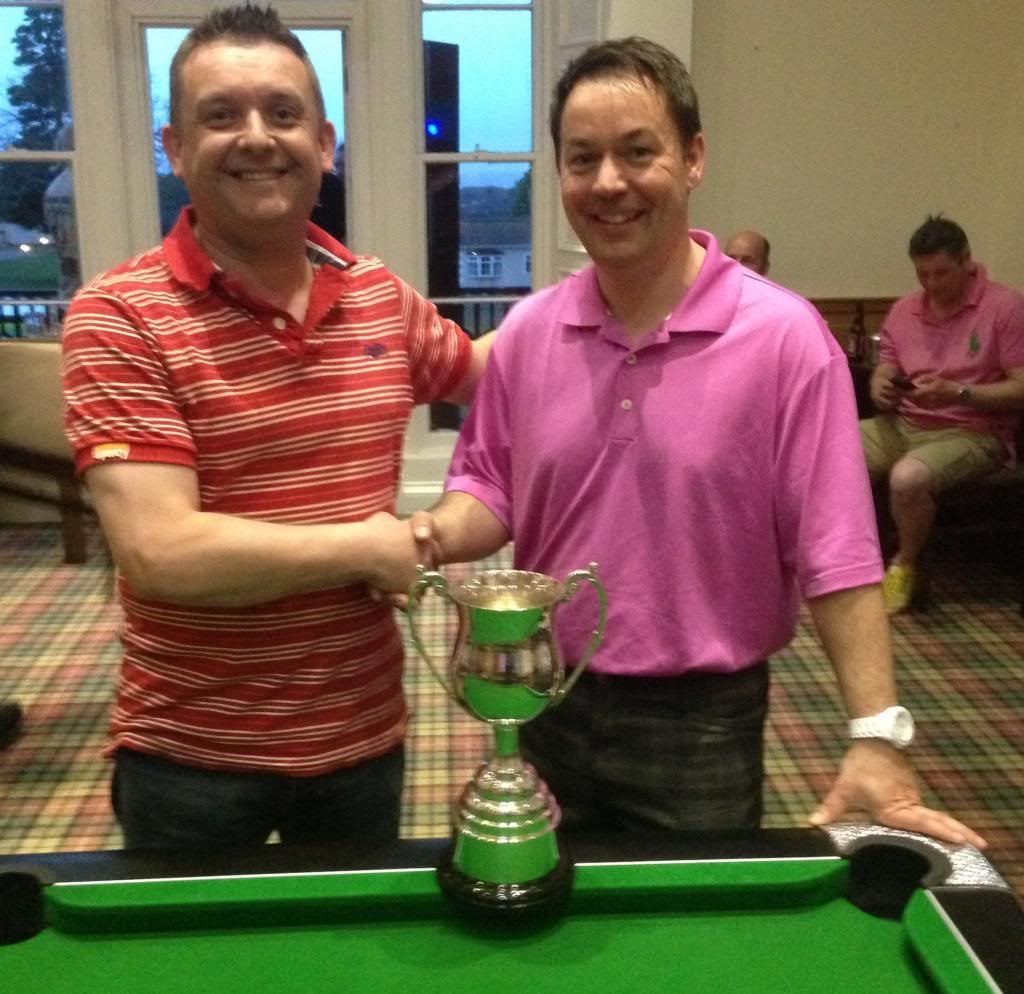 2014 ADPL Singles
Greg Alexander, Champion (left)
and Jonathan Cargill, Runner-Up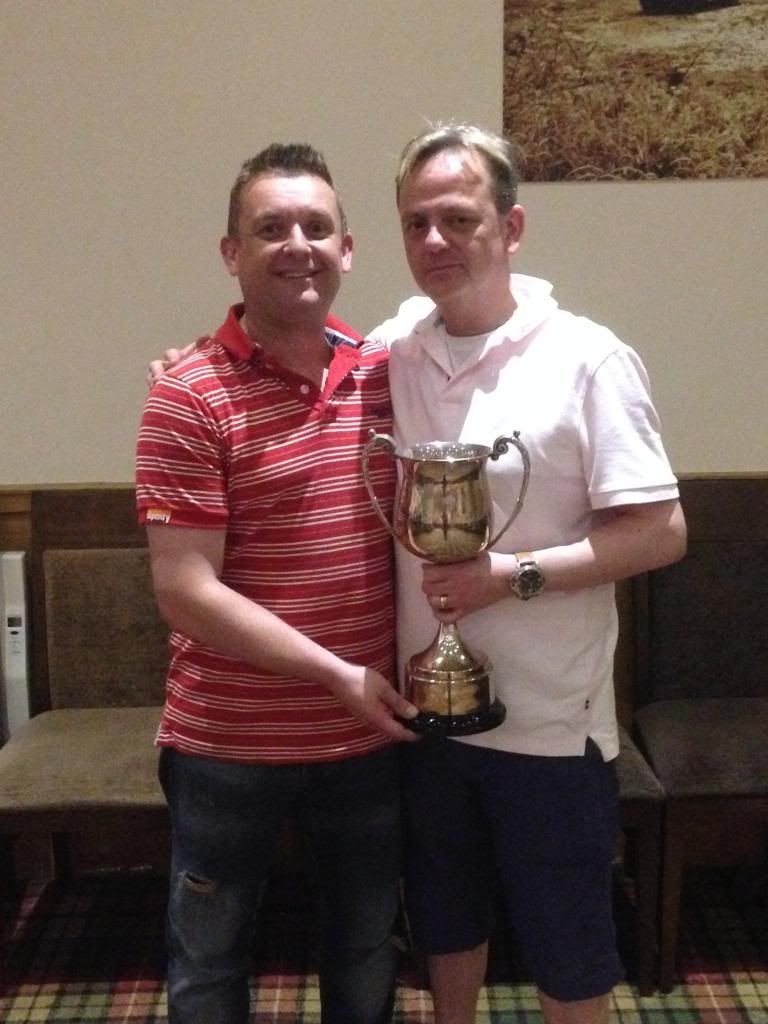 2014 ADPL Doubles Champions
Greg Alexander (left) and Martin Cherry
2014 Division 1 Champions
Portcullis 1
2014 Knockout Cup Champions
Ram's Heid 2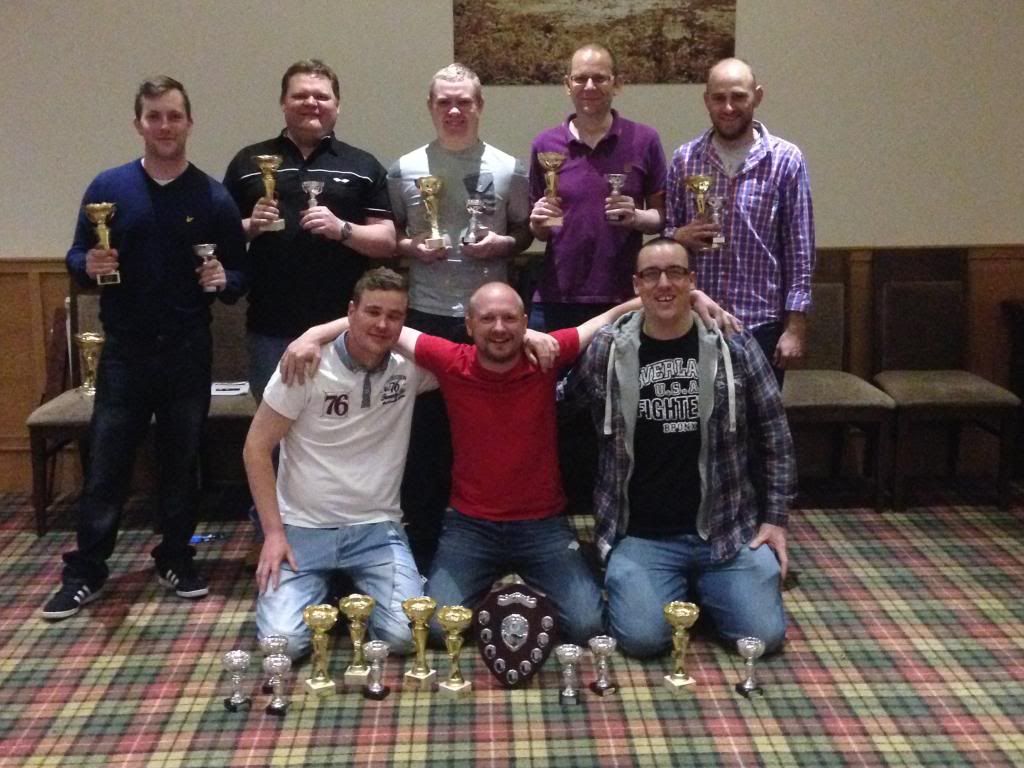 2014 Division 2 Champions
Burns Bar